Wow… it has been ridiculously long since the last time I've posted anything. And even longer since the last time I posted any cell phone photos. The quality has obviously not improved at all. I realize I am one of the dwindling few to not be apart of the instagram party, but ahh, still memories.
Starting with a trip to Pacific Ocean Market from the first week of March. The back of the store is always the most interesting…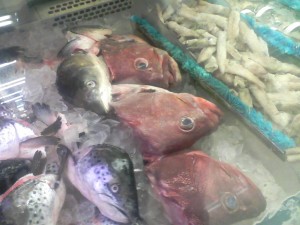 fish heads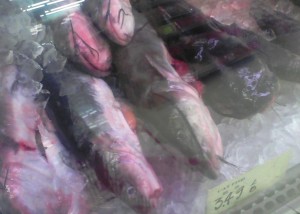 fish with whiskers look funny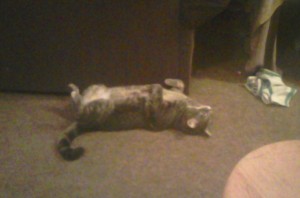 Wallace playing dead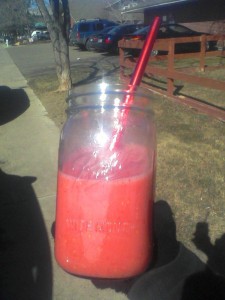 smoothie on the way to work/school
I had to go to a few different auto body shops to get estimates on my car (some woman backed into it in a parking lot in Thornton) I was mostly just impressed by the vintage barber's chair in one place.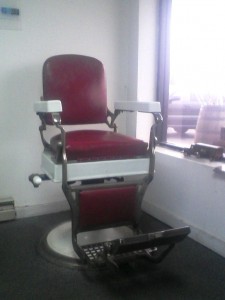 Awesome.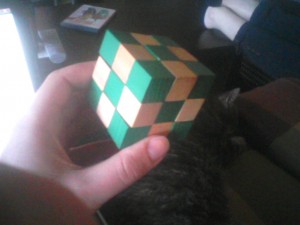 Odessa solved the puzzle! Actually she has many times and is pretty fed up with everyone that comes up, takes it apart and then can't solve it again. Ha.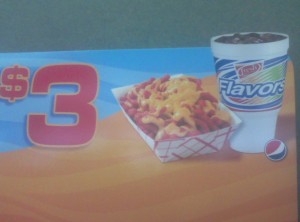 gross.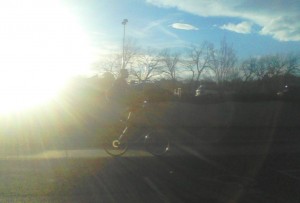 I just saw yet another one of these doubler-decker jousting type bikes. This picture is from awhile back, though.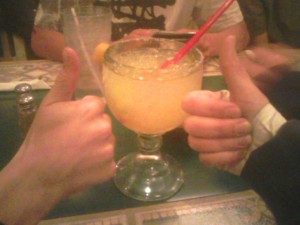 No idea what Irish holidays, margaritas and Wyoming have in common but they all came together nicely after our skate adventure in Cheyenne on St Patrick's Day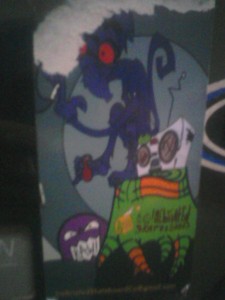 a sticker from the bathroom at Oskar Blues in Lyons
One of the 8th grade students in a group that I'm a "science mentor" to showed me a few pictures she drew…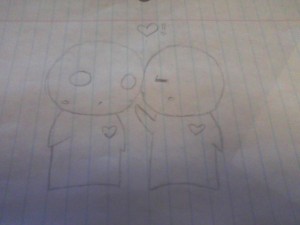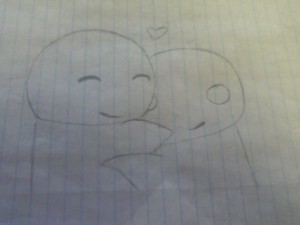 I honestly don't remember why I took a photo of this car…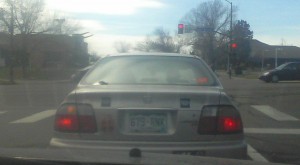 …eh, oh well.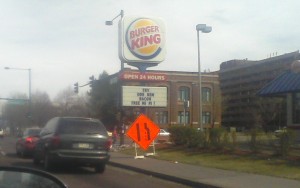 This sign never gets old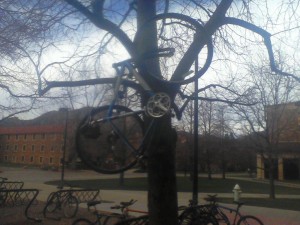 that really sucks.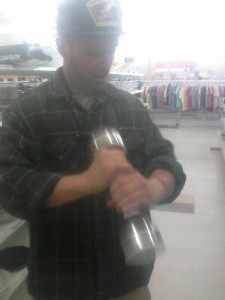 Chip thought it was time to use a shake weight
I was working on campus late one night with Odessa, and we decided to go to the late-night Hapa Hour as a reward around 11pm. Apparently every Thursday night at Hapa on the Hill , they displace sushi on a naked girl. A little surprising.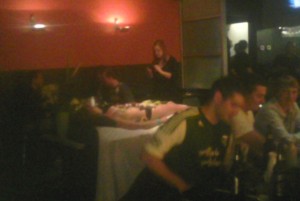 I couldn't help taking a photo. I took it at a distance though, unlike the other girl in the photo, making sure the get an up close photo to instagram, no doubt.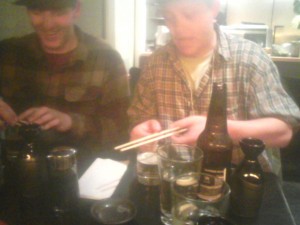 Chip and Keith were there too, sake-bombing.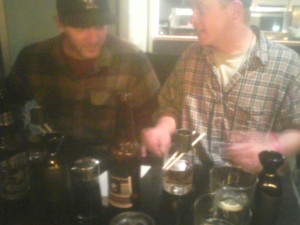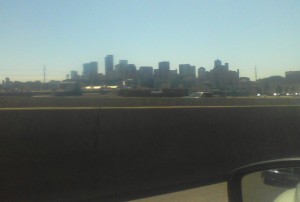 For some reason, every time I go out skating with the Crisis team, we always see bulldogs. Always. This particular day was no exception.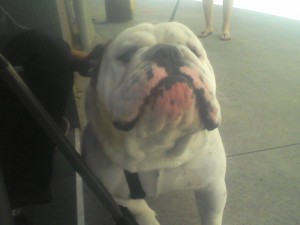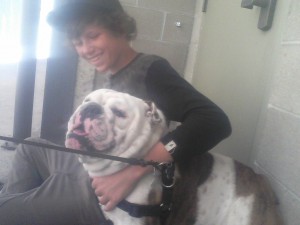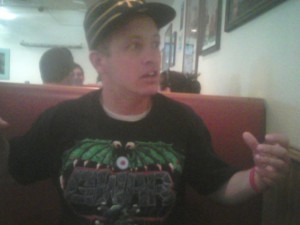 Chip during our Easter breakfast
I got so bummed out one day when I found this package of ham in the back of my car…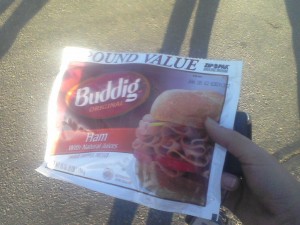 I'm over it… it never smelt up my car and not sure how long it was there. Probably a day at most. But so incredibly curious…
I ordered a chai latte with a shot of espresso…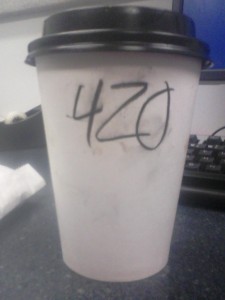 Not sure what it was about my dirty chai that warranted being marked with 420. Is it the super stoner order?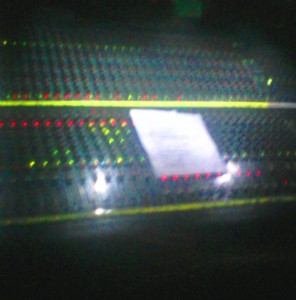 The above terrible looking photo was my attempt of capturing the play list at the Cults show at the Fox. Ha.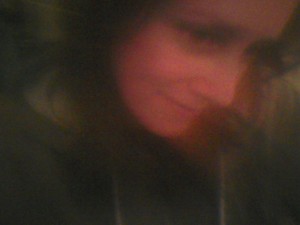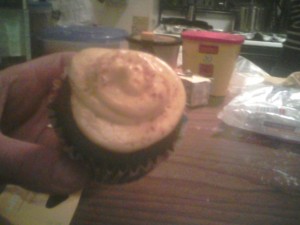 Odessa made cupcakes!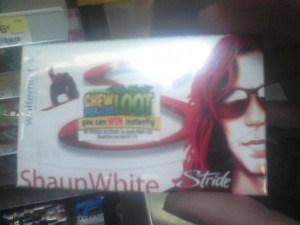 seriously?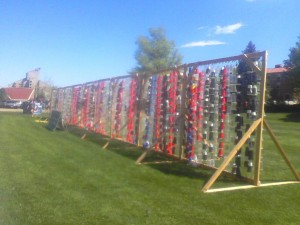 display for awareness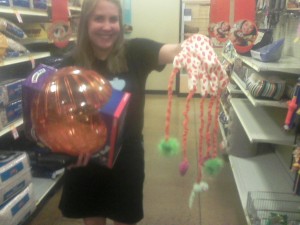 so creepy.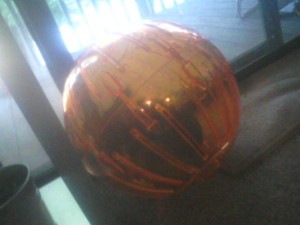 Chincha loves her new ball… her new source of freedom in the apartment
I was teaching yesterday and went in the staff bathroom and found someone as careless as me..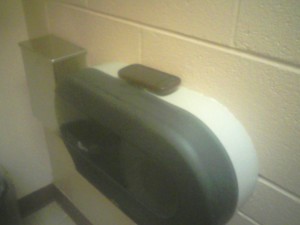 my patented move to lose my cell phone. works every time.