The adventure officially began around 6am. I had been up packing until about 2am after a fantastic bbq at Fuzz and Leslie's. I woke up around 5am, took a shower, packed the car, mapped a route that would take me as close as possible to Jack's house without crossing any of the Bolder Boulder path. Jack was up even later than I was and barely looked awake when he met me a few blocks from his house with all his gear for the trip. Breakfast at Moe's bagels and then hopped in the car. Rough start on little sleep, but we were off on our adventure!
First stop was in Grand Junction. I wanted to drive through the Colorado Monument on the way out, so we somehow found it with very little help from my gps. It was our first real break from the road and photo session…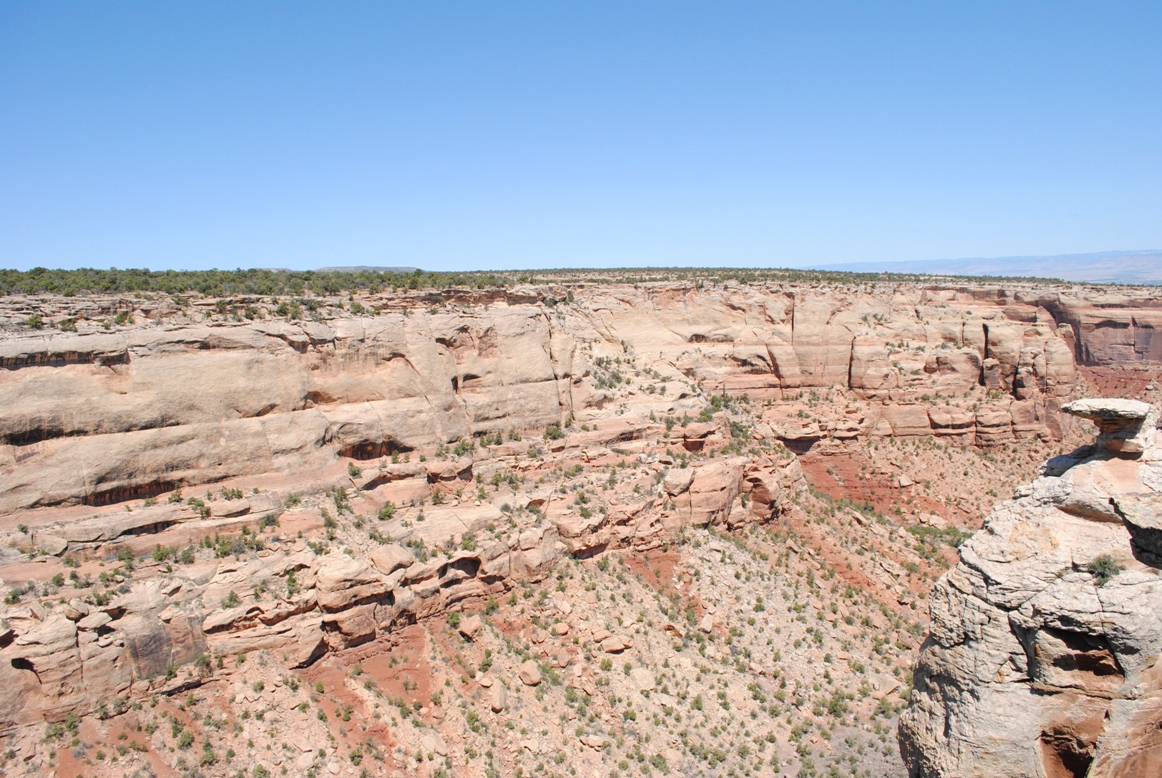 If you've never been to the Colorado Monument or never heard of it, it's basically a mini Grand Canyon. I've never been to the actual Grand Canyon, so I still find the Monument to be pretty breathtaking.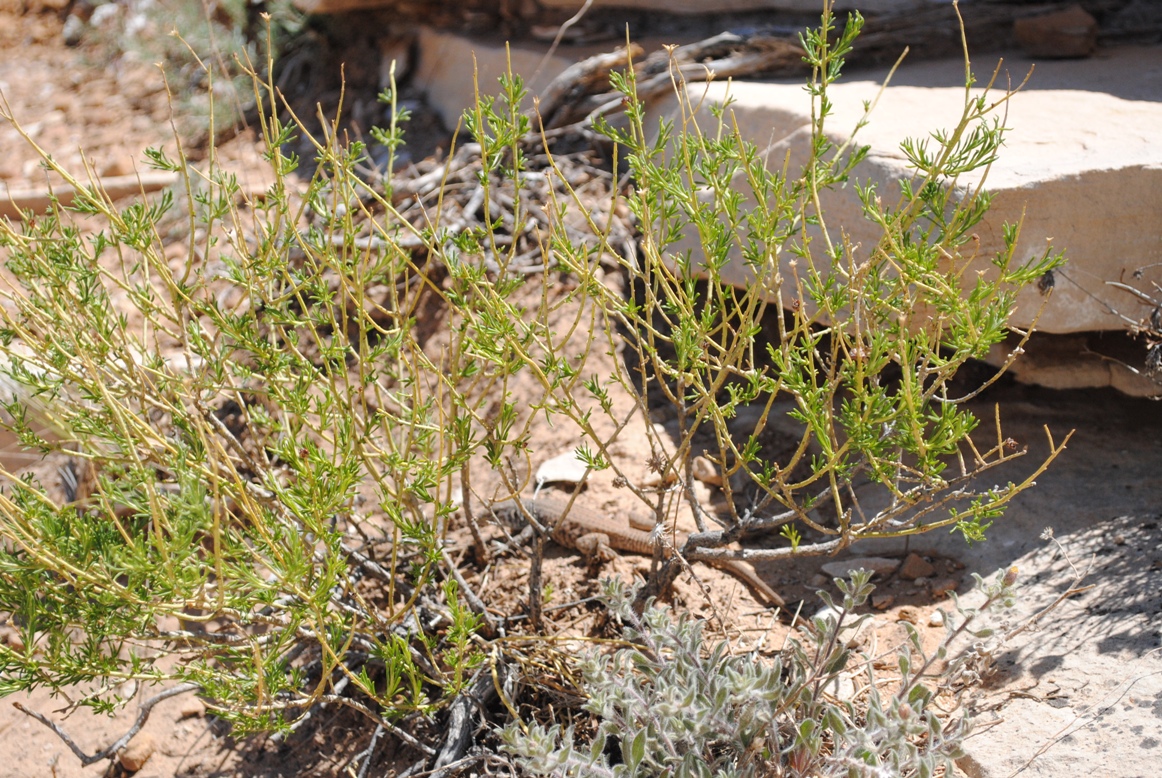 We saw so many lizards on our drive out. So cool. If you look carefully at the picture above, you'll see the first one I caught on camera during this adventure.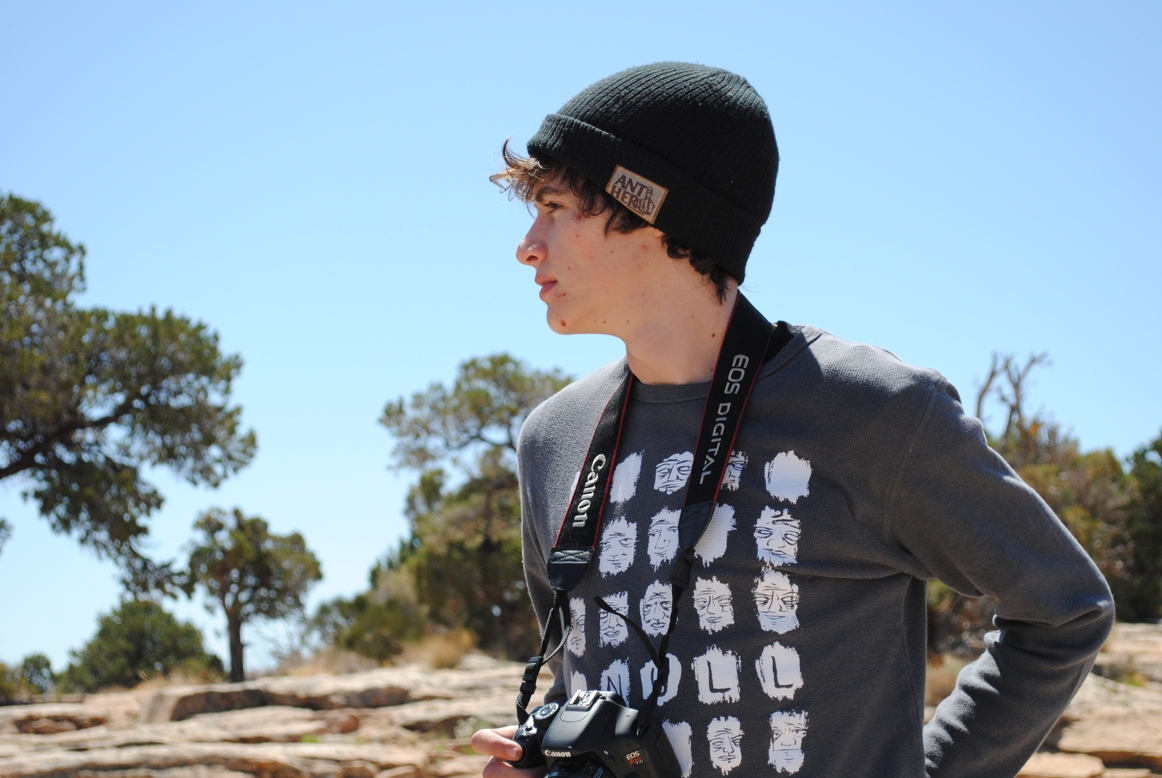 Jack. Still looking slightly beat up from a skating/handrail incident.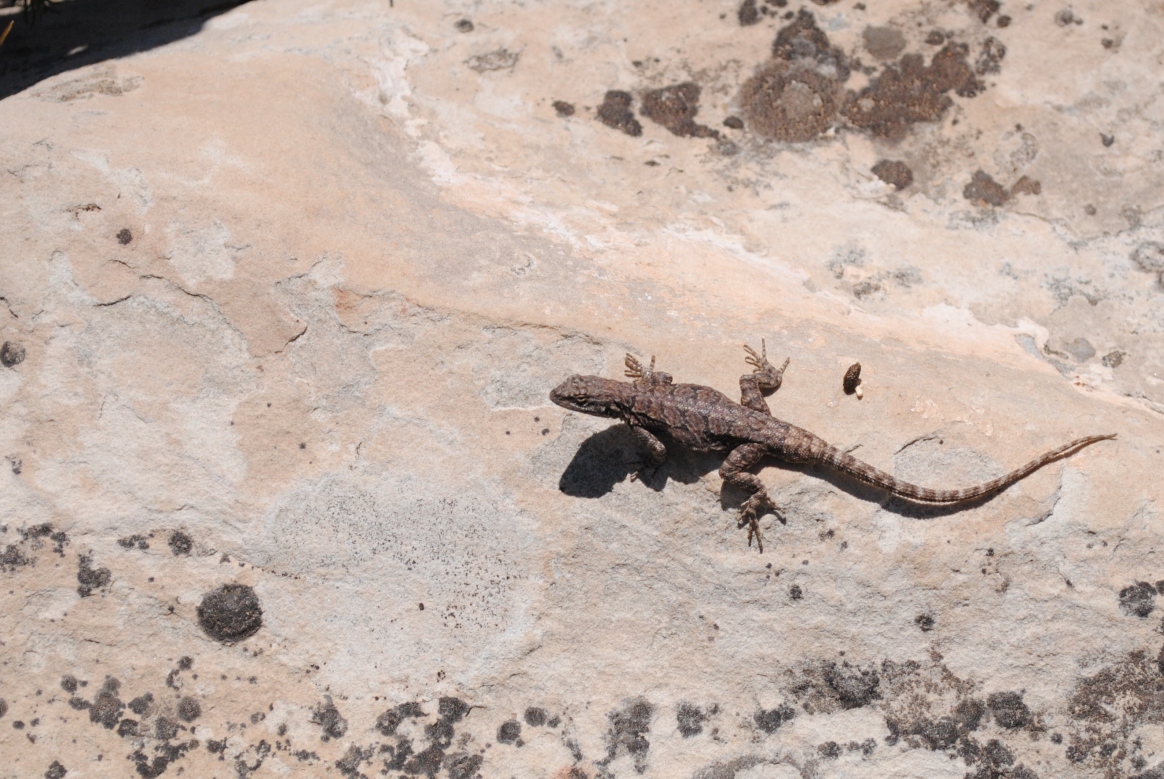 Jack, looking at words in rocks. The guy in the background was extremely happy about the weather and super friendly in general.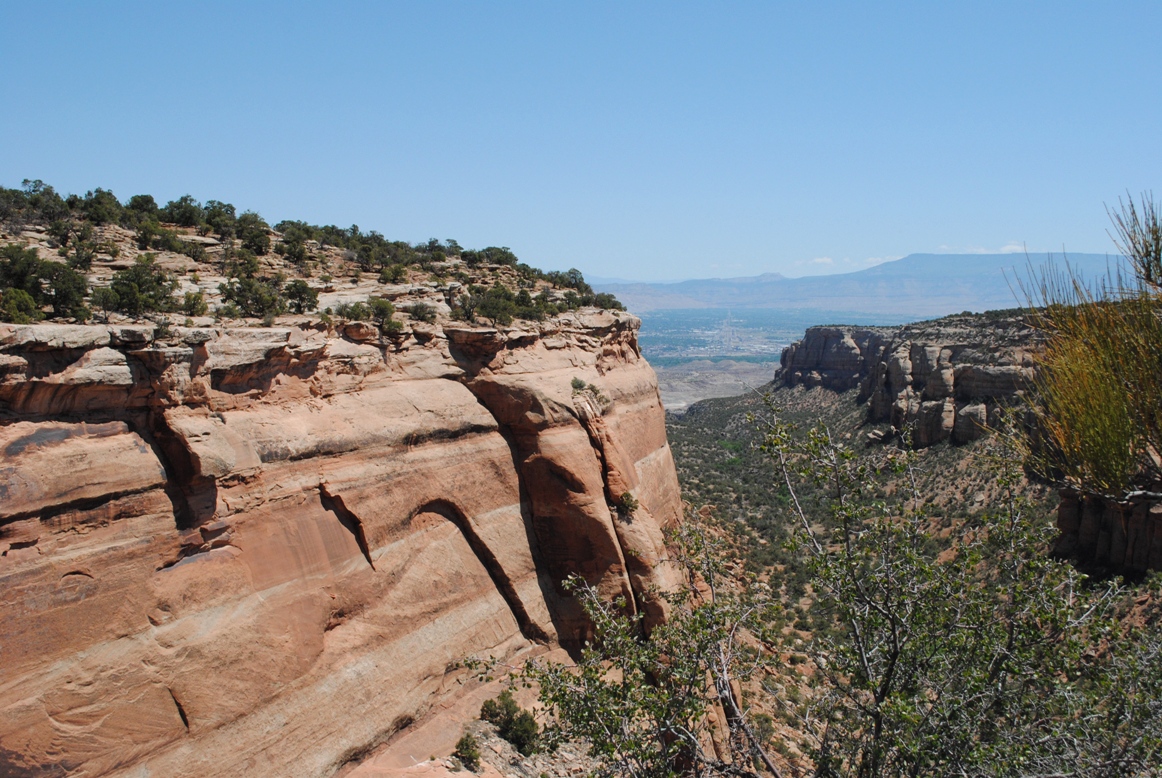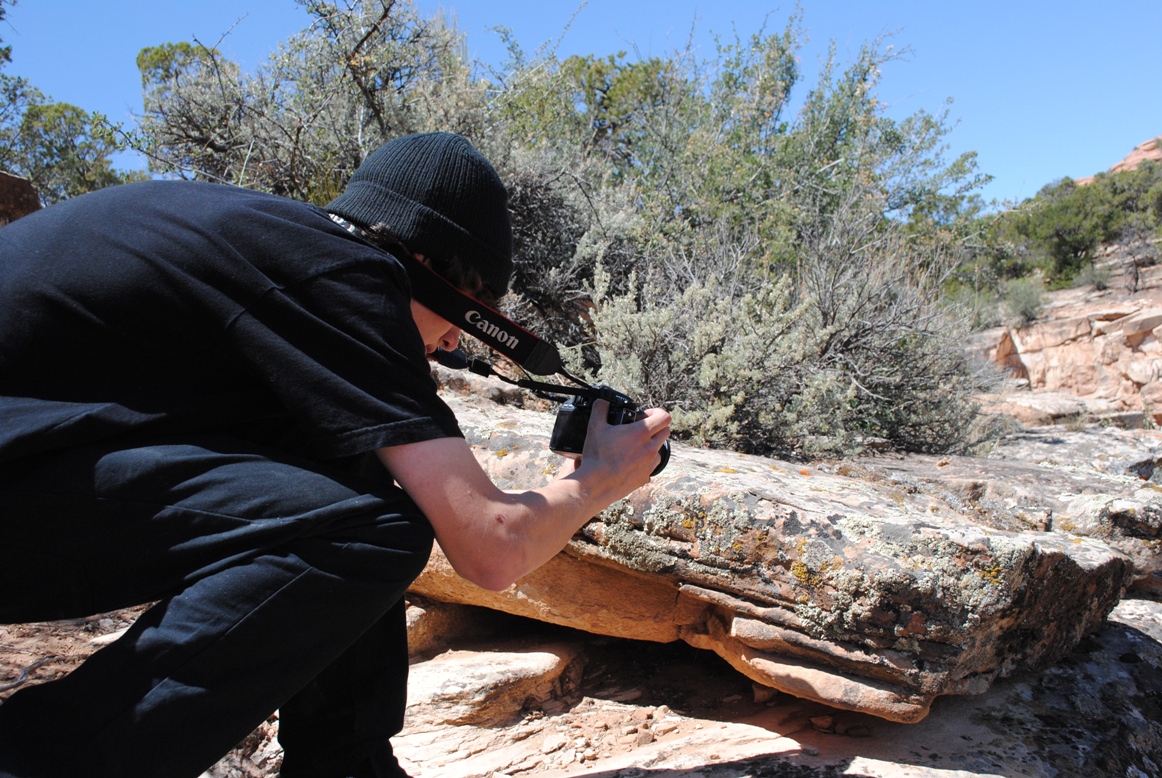 Jack took some amazing lizard photos. And I took some mediocre photos of him taking amazing lizard photos. Teamwork.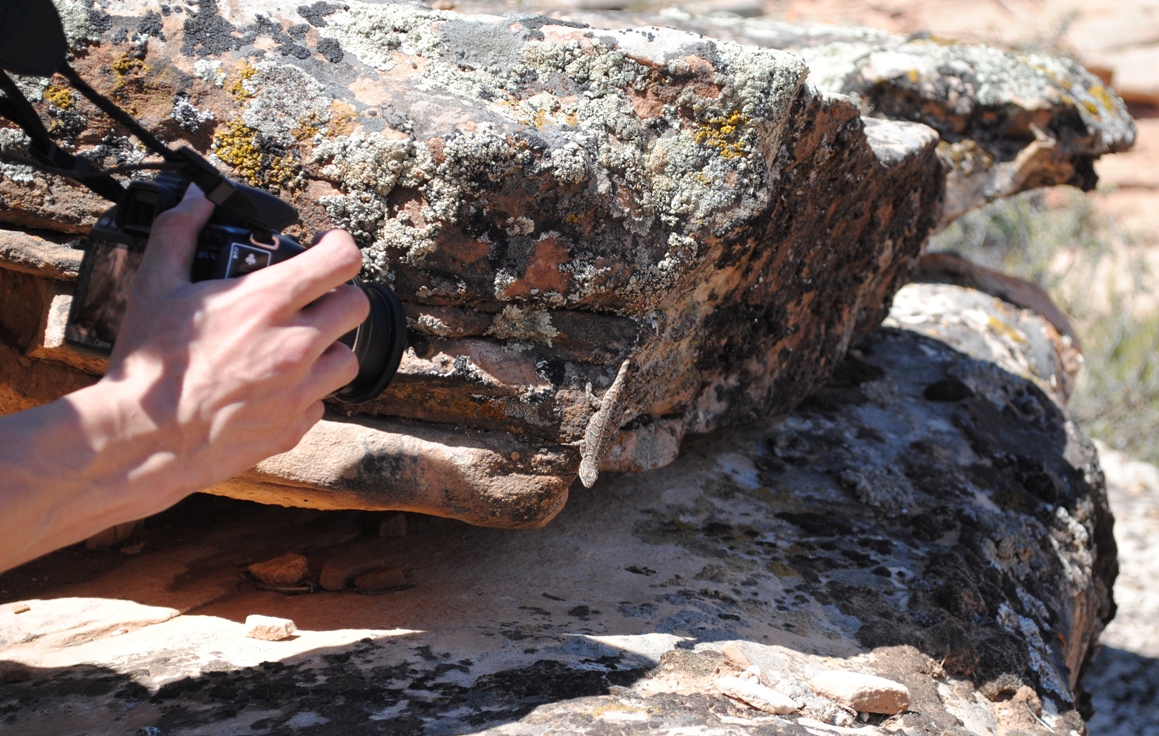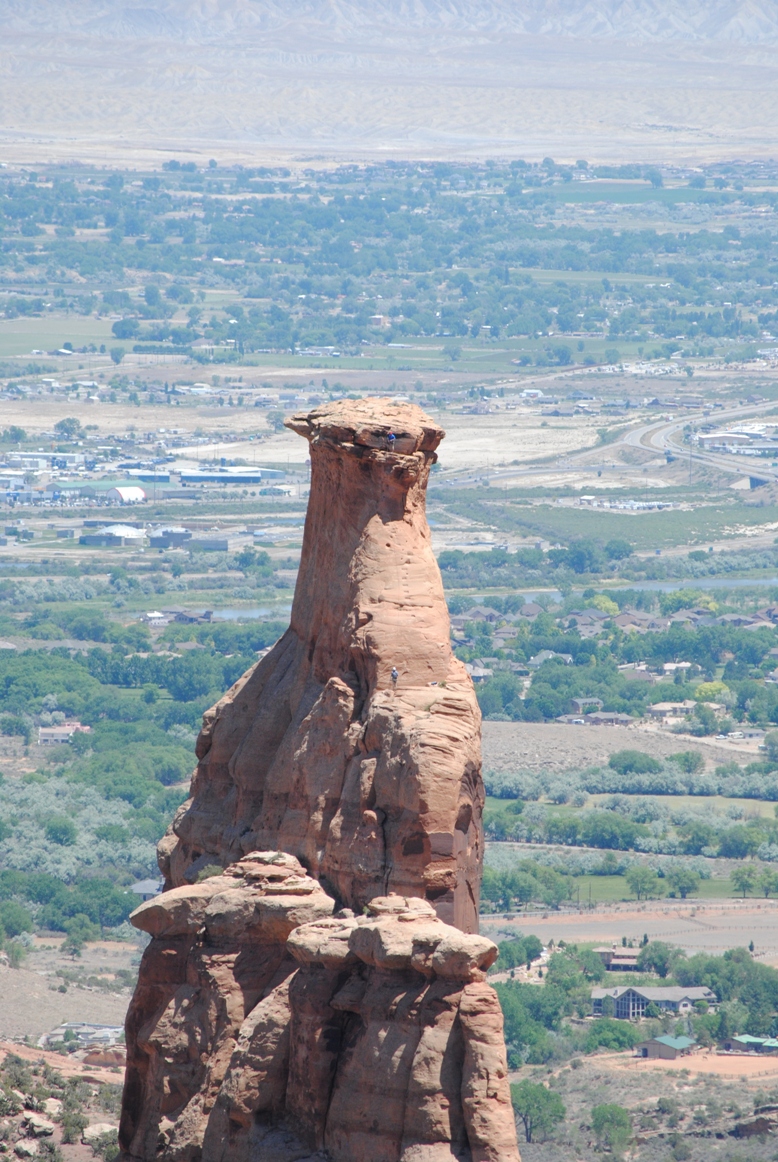 Independence Monument. If you look closely to the picture above and the picture below, there are people climbing the monument, just about to make it to the very top. Funny, because when Jack and I first saw the giant isolated rock, one of us made a comment about how amazing it would be sit on top of it. I wasn't sure whether climbing it would even be possible. And yet, I was actually able to watch two guys make it all the way up to the tippity top.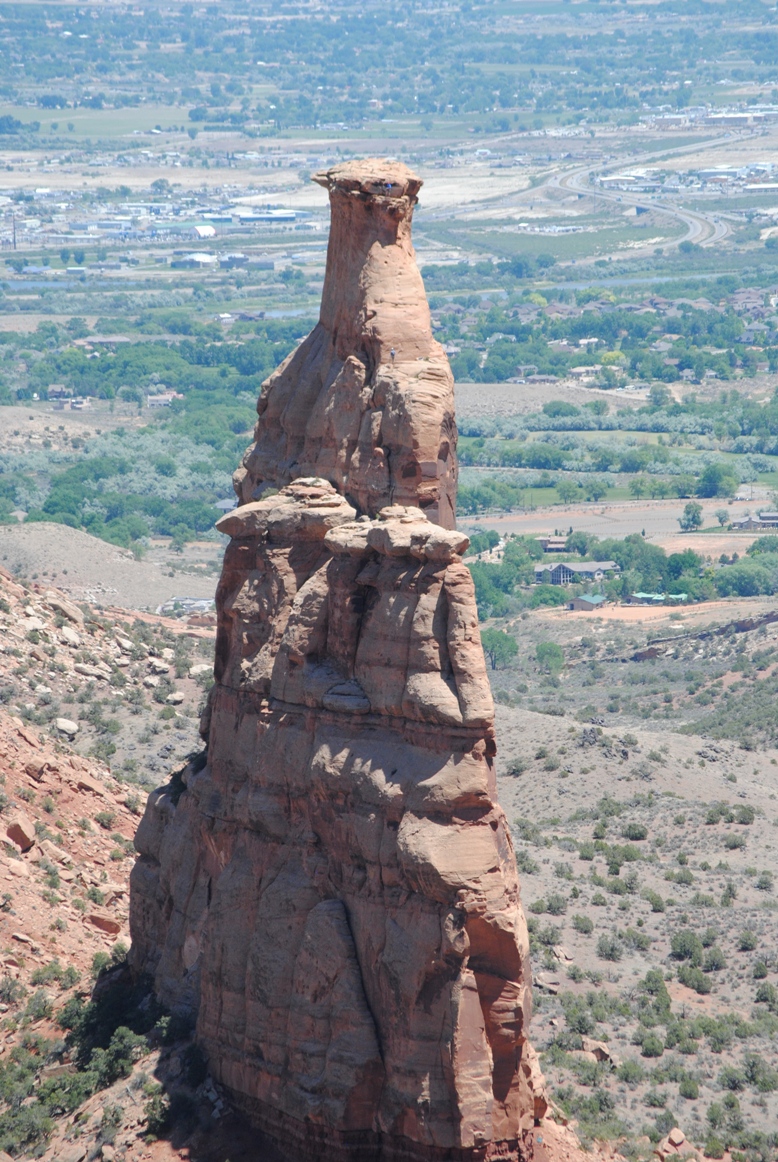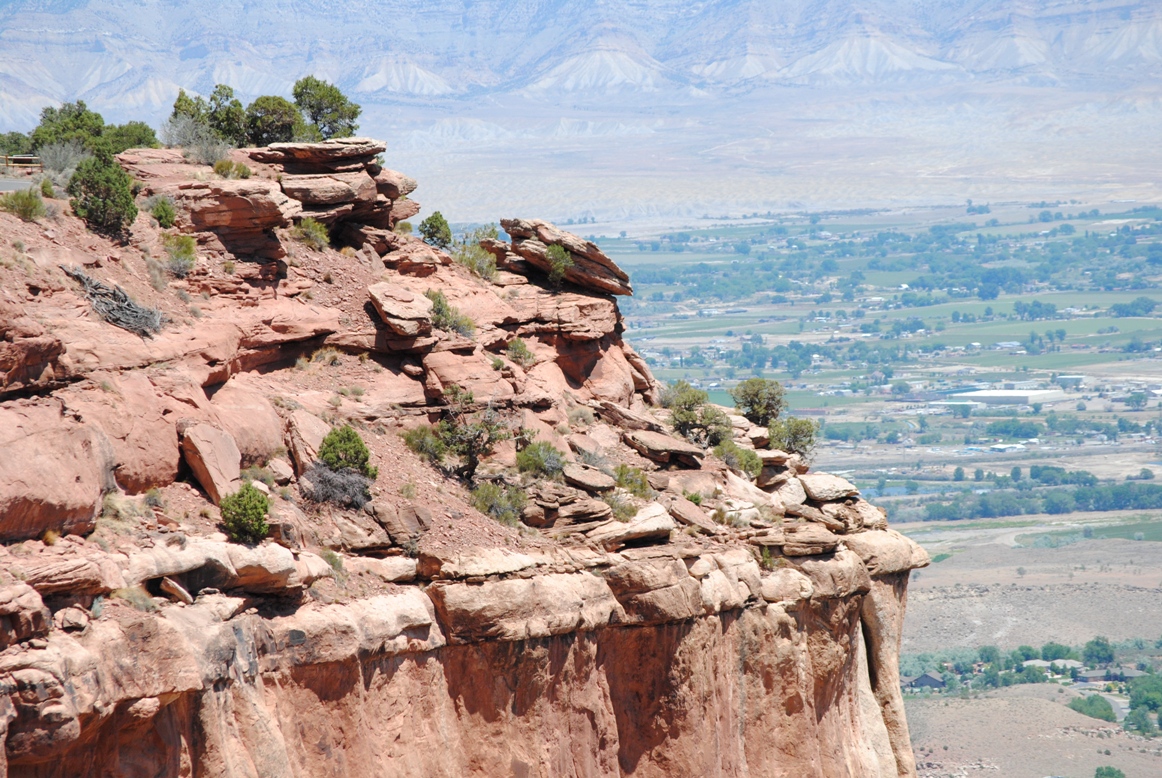 I started taking some photos through the lenses of my sunglasses because the shades were making everything look just a little bit more amazing than it already was. About 10% more amazing.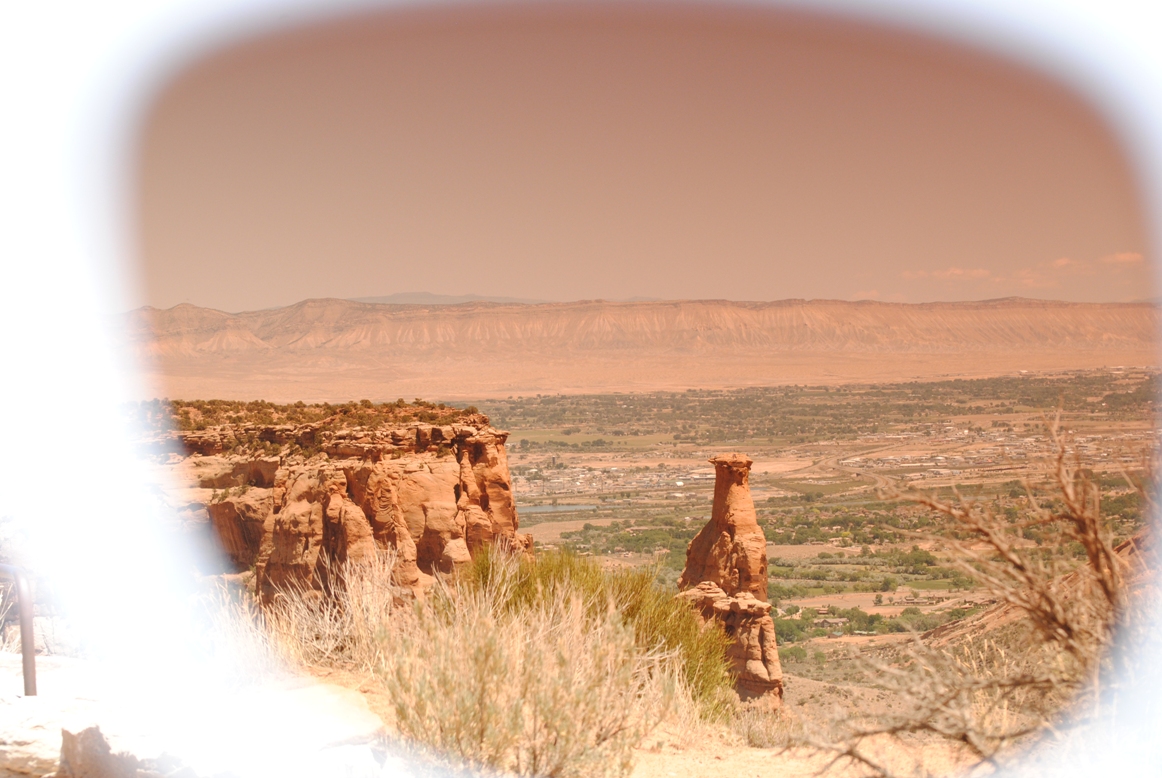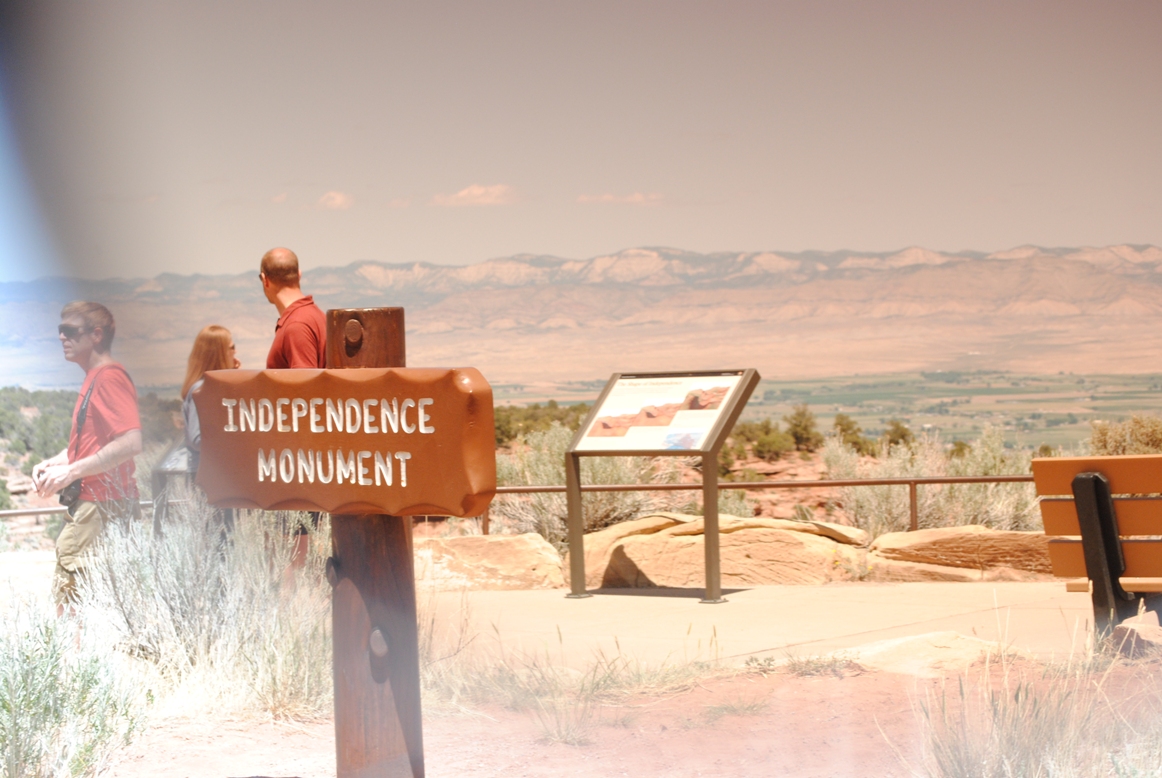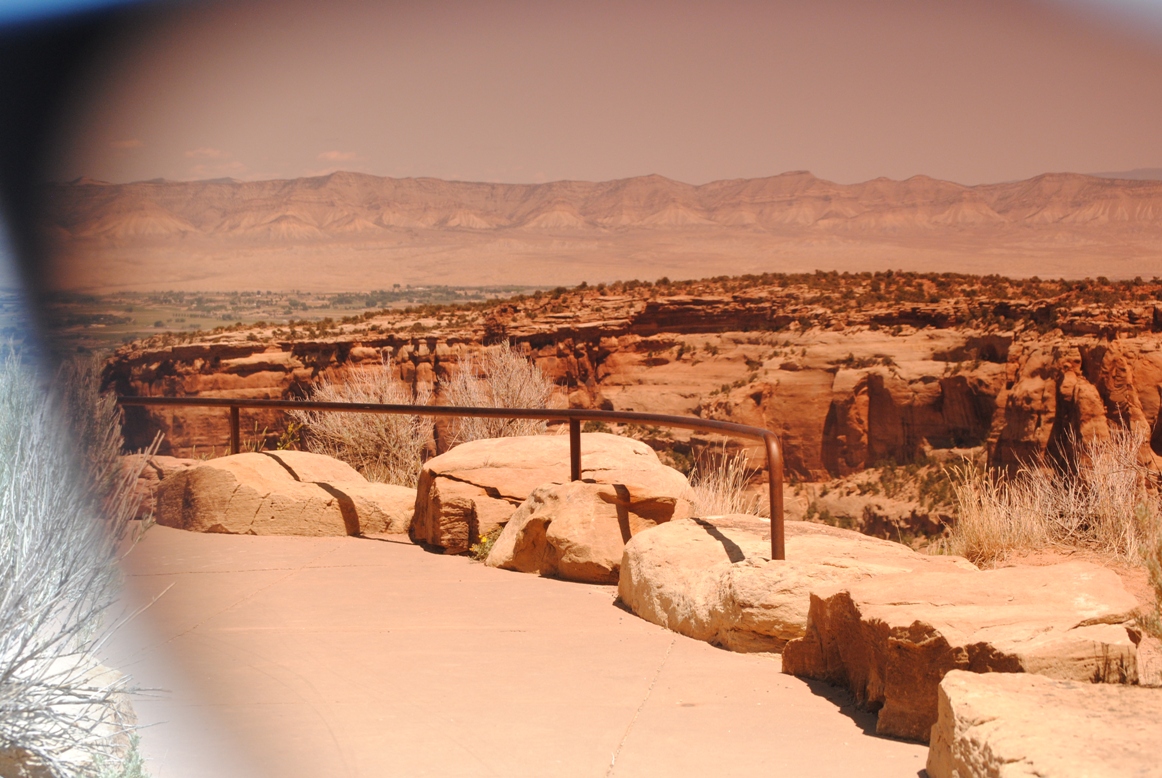 Aaahh. The flat bar. We ended up hanging out at this spot for quite some time, waiting for each set of kooky tourist-types to move along, until we got a few minutes alone with the spot and the flat bar. After waiting patiently, Jack took a few tries to get a photo with a wonderfully scenic backdrop.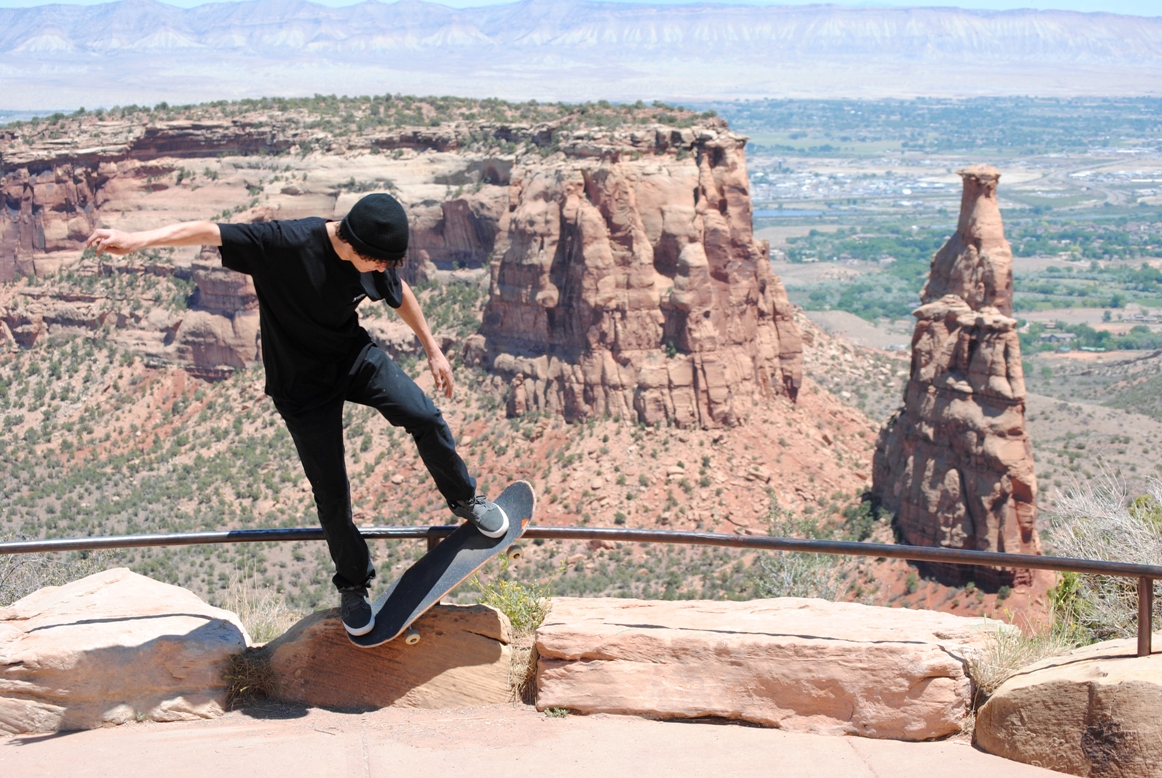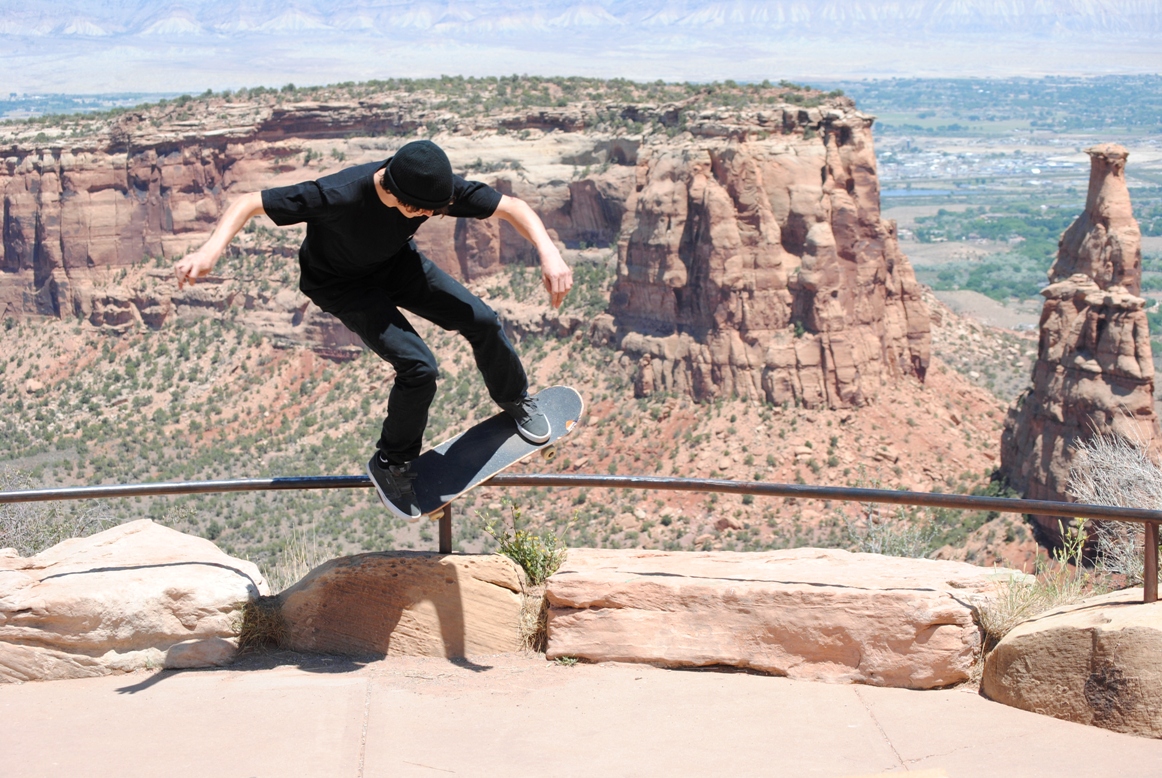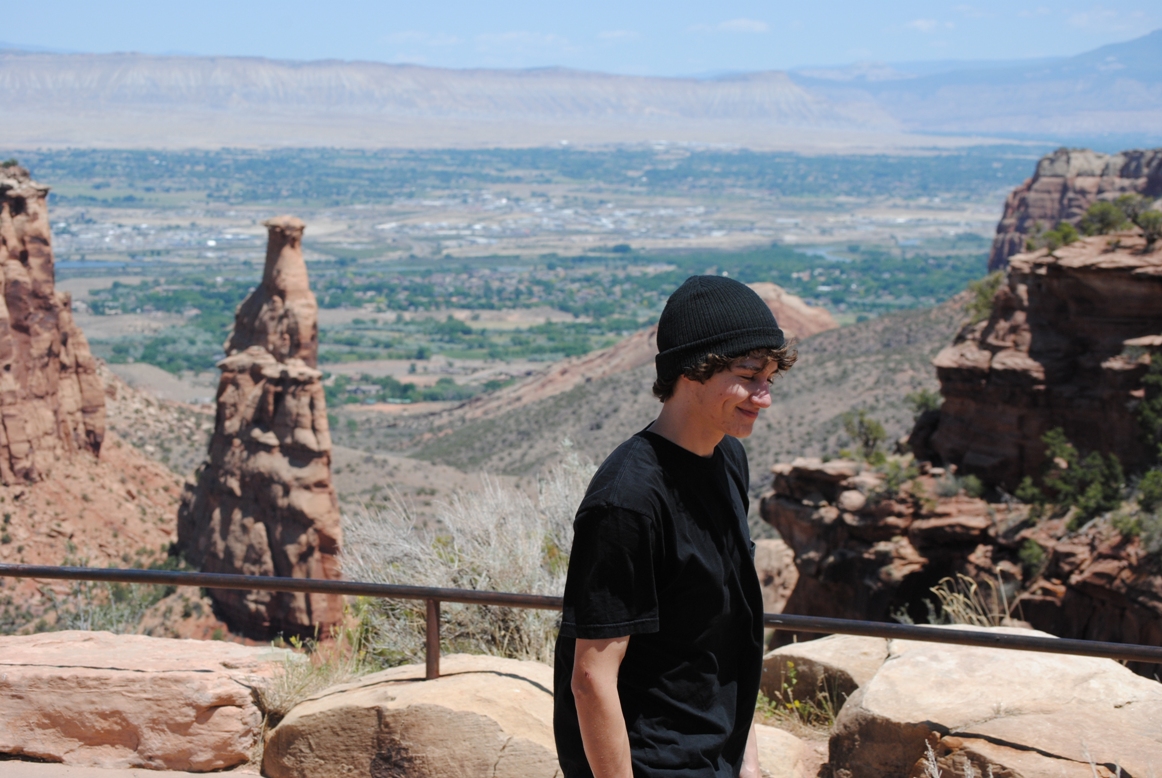 Jack only got a few tries before the next family of kooks arrived. This particular family was led by one possibly drunk father wearing a american flag tank top (if I remember correctly) and a cowboy hat, who charged over the rail and headed down towards the edge of the rocks with the women of the family yelling at him from behind. Yeap, time to call it quits and move on.  You win some and you loose some. And hey, we still got a decent poser photo.
After finally making it out of the Colorado Monument, we stopped for a quick bite to eat at the most common "restaurant" in the country… good ol' Subway… and then straight to Utah. I had never been to Moab before so that was the destination for the first night of adventure. The drive down to Moab was amazing – the giant red rocks really are wild to see. Leslie was spot-on when she told me the night before that it would look like it was straight out of Looney Toons cartoon with Wiley Coyote and Road Runner.  We ended up finding an amazing campsite right on the Colorado river, giant red rocks all around us, shade (!!!!), which I was told was very important, and a relatively comfy dirt patch for the tent. After a quick trip into town, it was time for relaxation. A slightly failed dinner attempt, cards, talls cans and Jim Beam and coke, music out of Jack's headphones, and sitting by the fire. Pretty much perfect.
When I woke up the next day, I had to do a little business in the form of a conference call. At least I multi-tasked by taking a few photos while on the phone…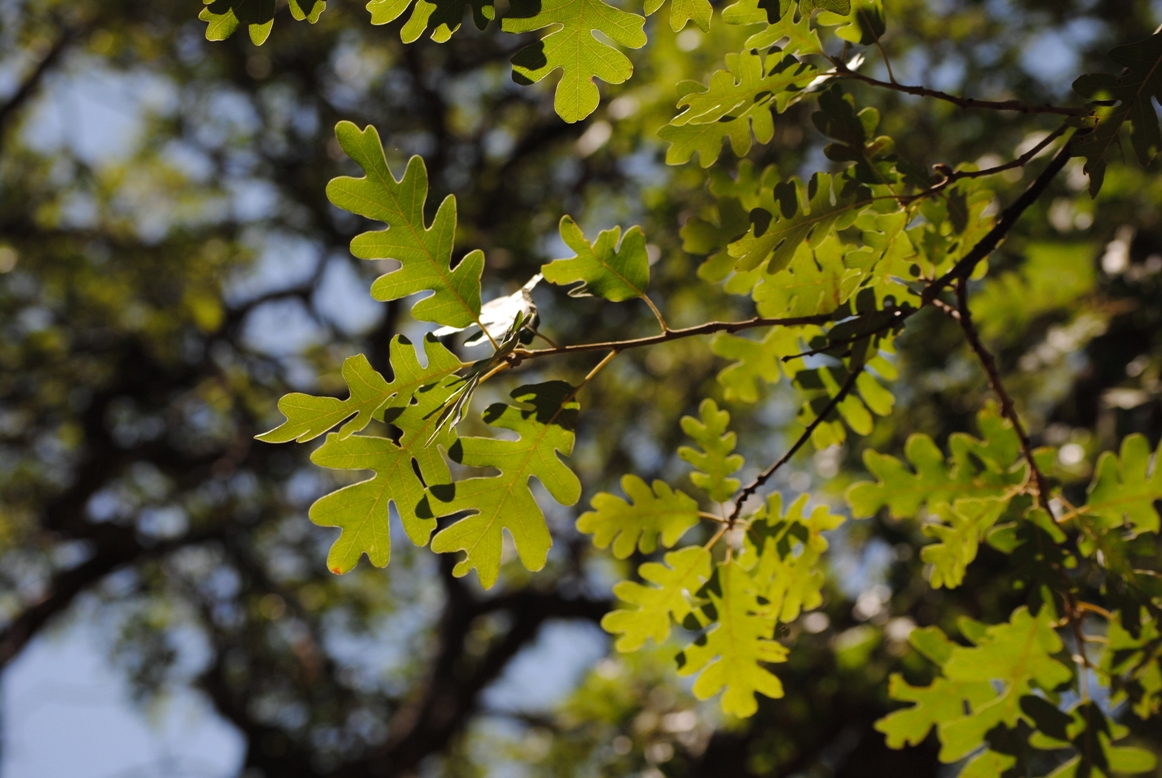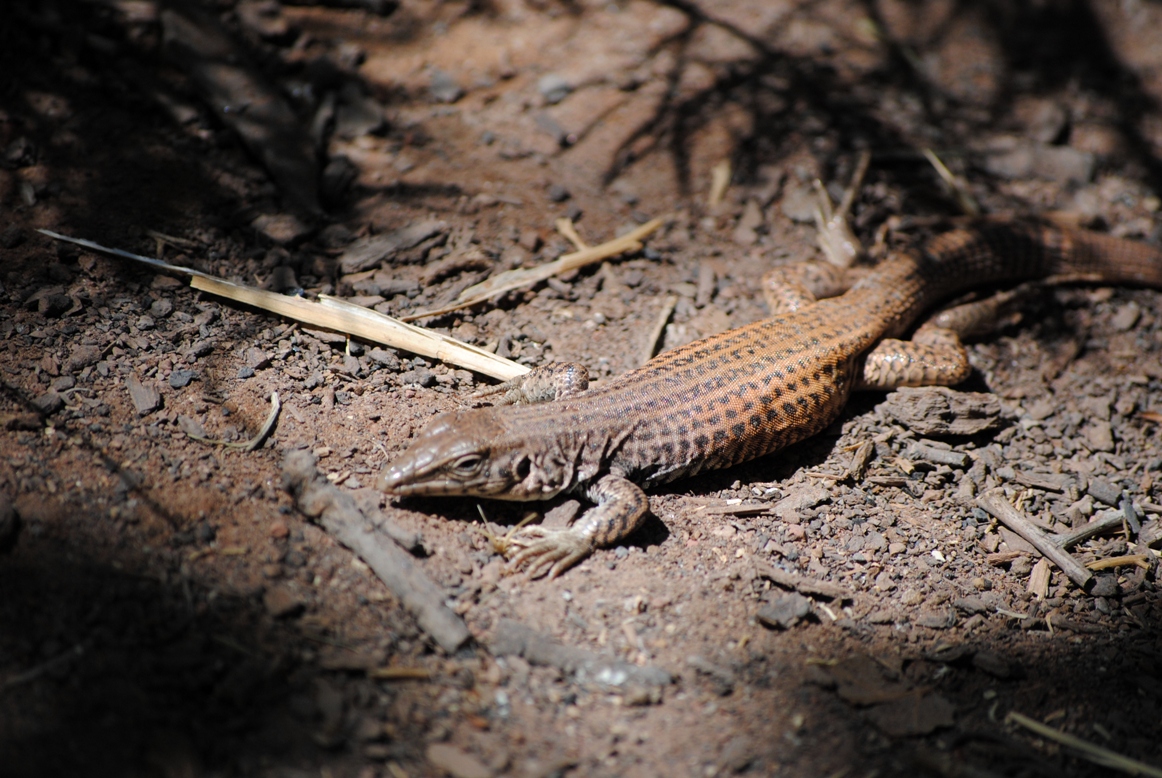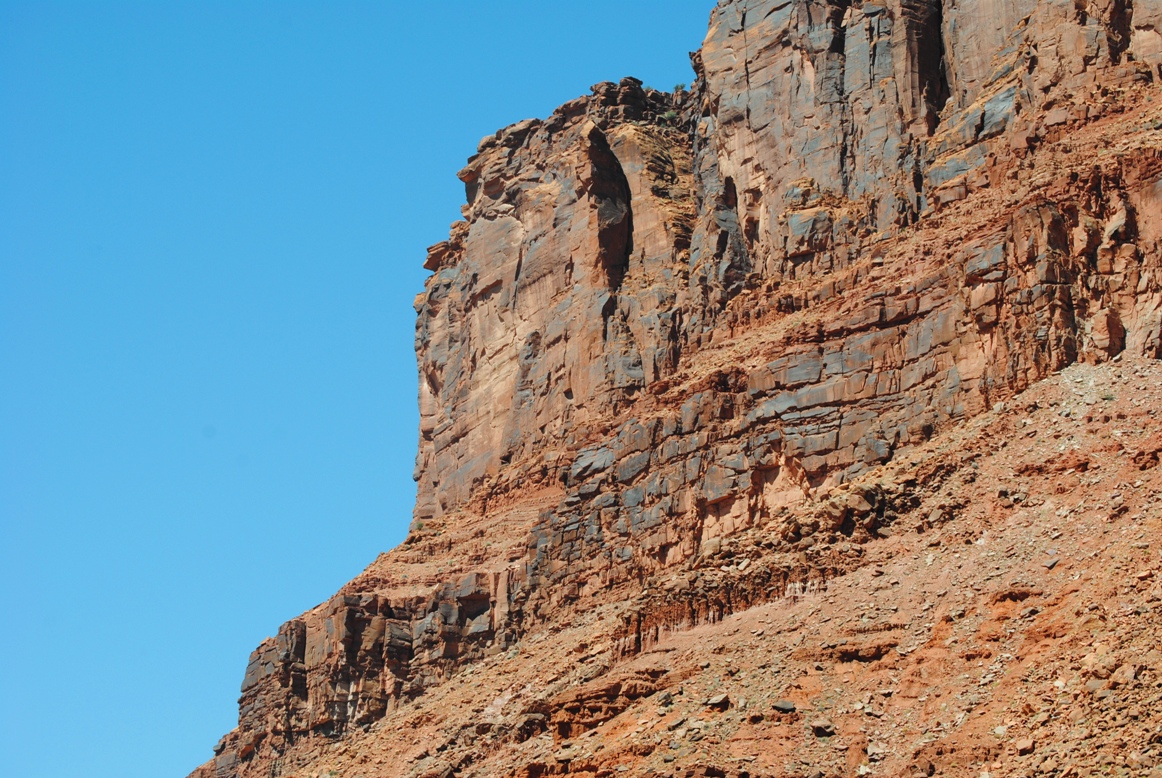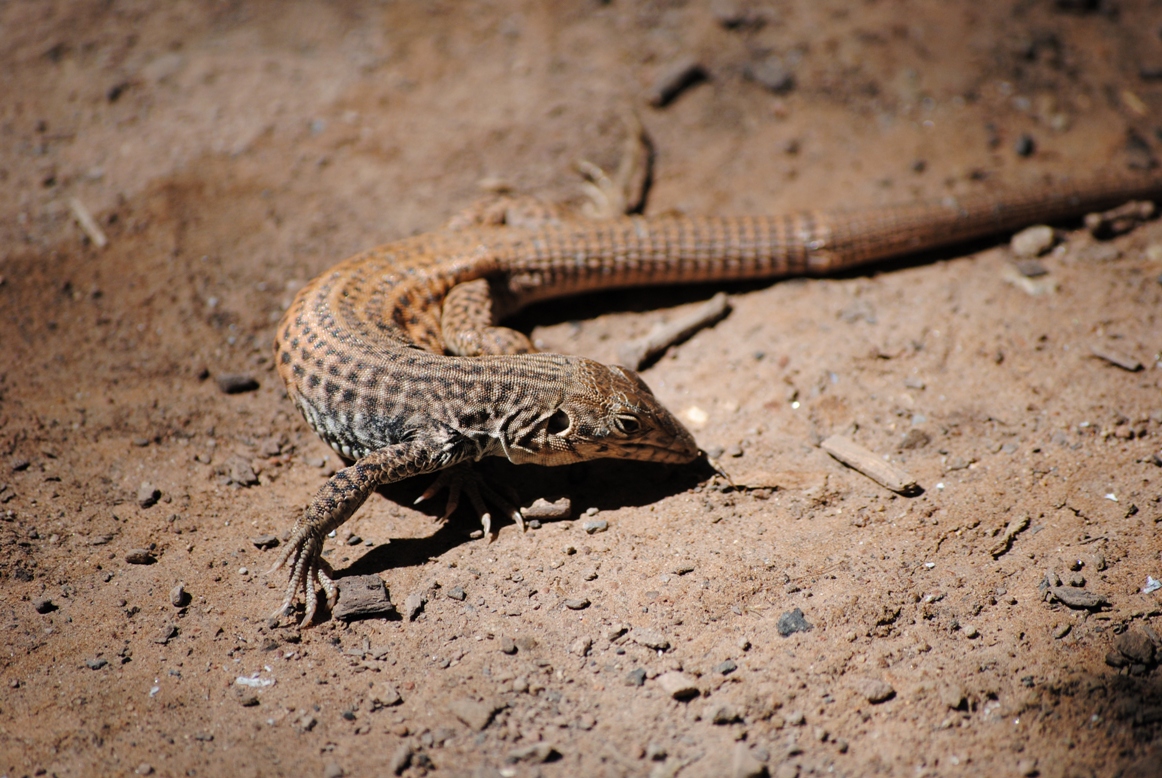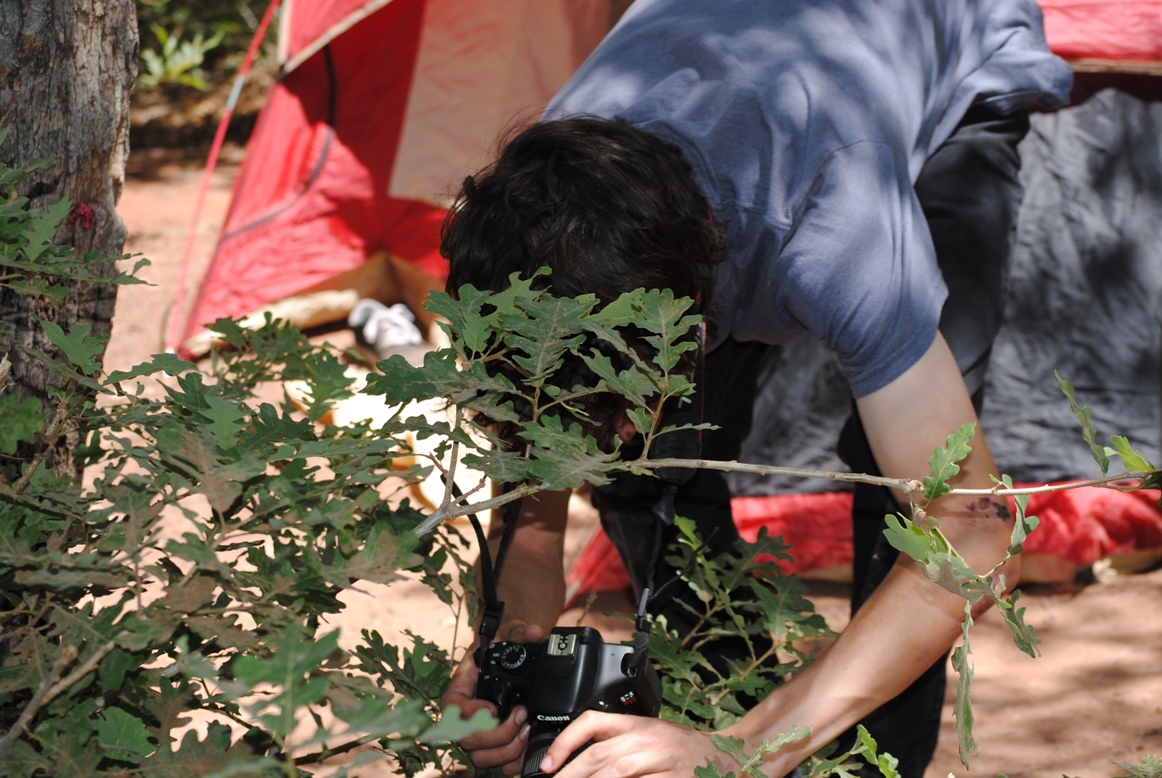 Jack was also busy at work taking lizard photos. (also packing up all our stuff, taking down the campsite, etc. while I was on the phone).
We made one more trip into town to get some food, made a call to Gordon's friend Jaxon who offered us a place for the night in Reno, and then got back on the road. We drove past Salt Lake City, past the Great Salt Lake (which I learned quite a bit about), and then finally to the Salt Flats, where we took a little break to check out this gem of the skate world.
The rest of the drive was a long one. We crossed into Nevada, where there are slots everywhere and beautiful desert scenery with weird mountain formations. The sunset just a little after we passed by Elko, NV and it was one of the most beautiful sunsets of the whole trip. After that point, though, the drive became long and tedious, and staying awake became the real challenge.
We pulled up to Reno around 1am, and met Jaxon outside of his home, right by the bar below. He was the raddest dude and his place was amazing. The bar looked super chill, equipped with an amazing patio area and cornhole, and Jaxon's apartment was probably the nicest apartment in all of Reno. He hooked us up with a full bedroom with its bathroom – far more than we ever imagined for this roadtrip. Can't thank him enough.
The next morning (or afternoon, I think we slept in pretty late), we watched a movie with Jaxon, and then he brought us to one of the best sandwich spots I have ever been to. So delicious.. and their sandwiches were monsterously big. From there we hopped back on the 80, heading west.
Final pit stop – Sacto for a skate break. I tried to drive downtown and ended up right at Capital Hill, where Jack took apart his incredibly beat up board and set up a new one. I considered trying to climb a tree, but gave up and took some photos.
Once Jack was set, we drove around a bit. First looking for something enticing downtown, then looking for a park, and finally settling on a random spot in an alley.
After we felt energized and so much happier from our mini skate session, we hopped back in the car to tackle the last stretch til we hit the Bay Area and made it to Gordon and Sandy's. The roadtrip out to Cali was complete. And a complete success. More adventures to come.