Gordon ended up taking the weekend off from work to act as our "skate tourguide". Pretty damn rad. We started Saturday in the Oakland area, since I had to be back to shower, change and head to an engagement party mid-afternoon. The first few spots he took us to were just for sight-seeing, although we did say we would come back to a particular double set – we went back though.
So our first real spot of the day was one called "redwall" that both Jack and I were excited to check out.  This spot: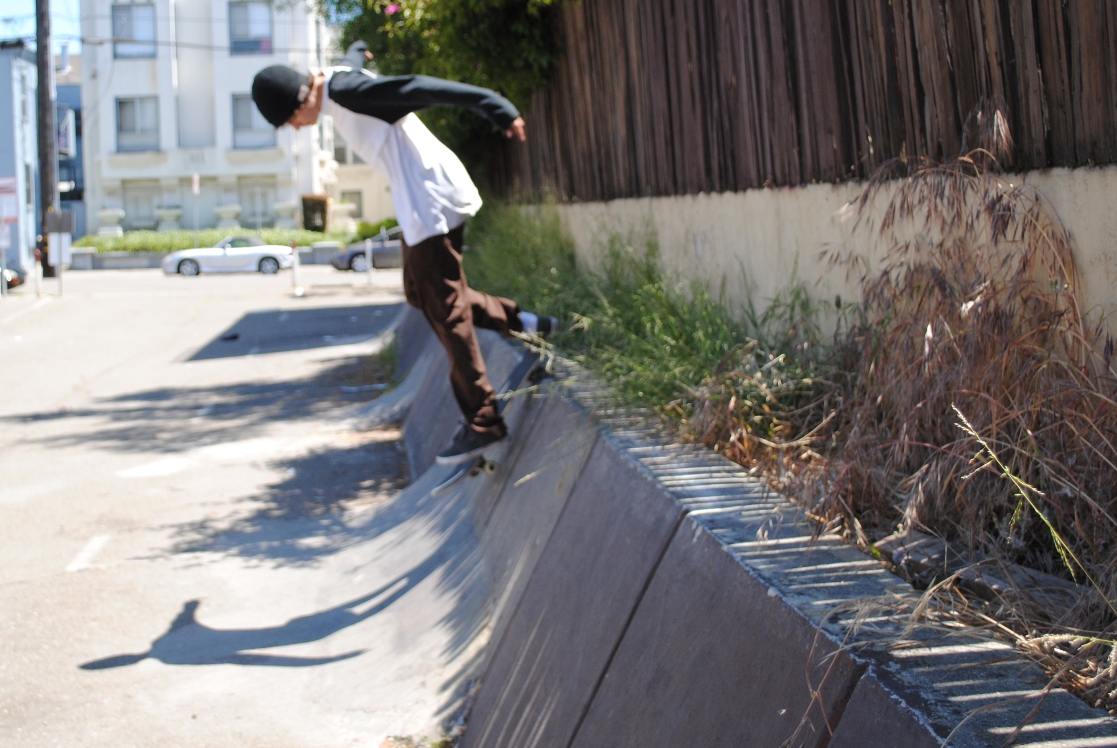 Jack warming up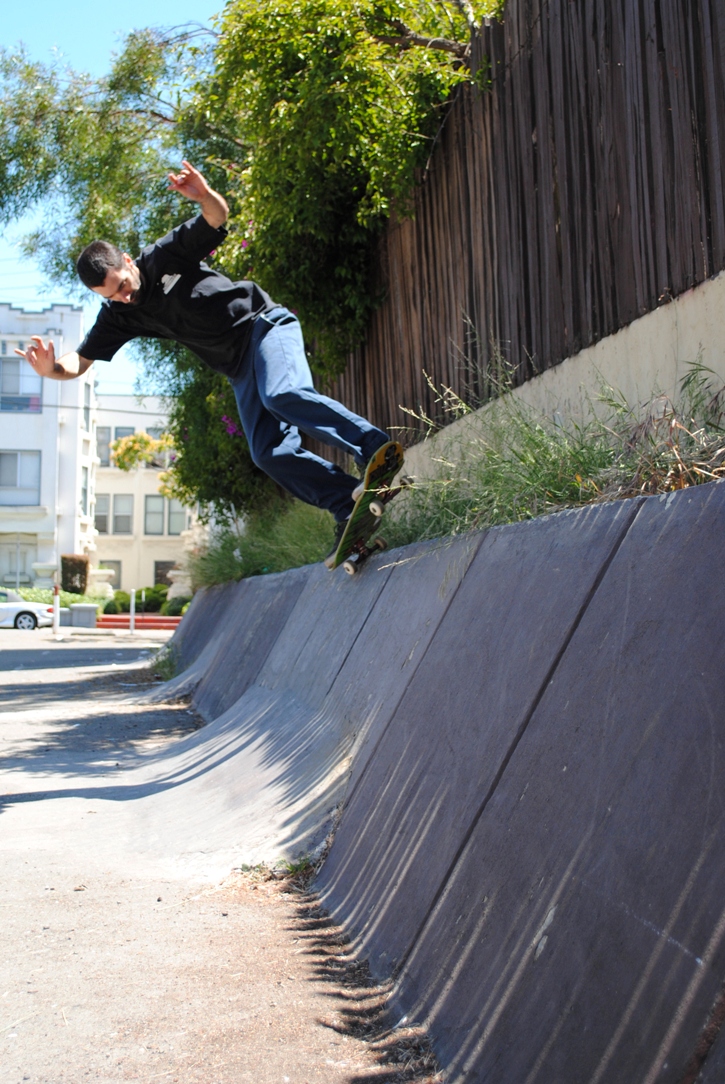 Gordo street-skating!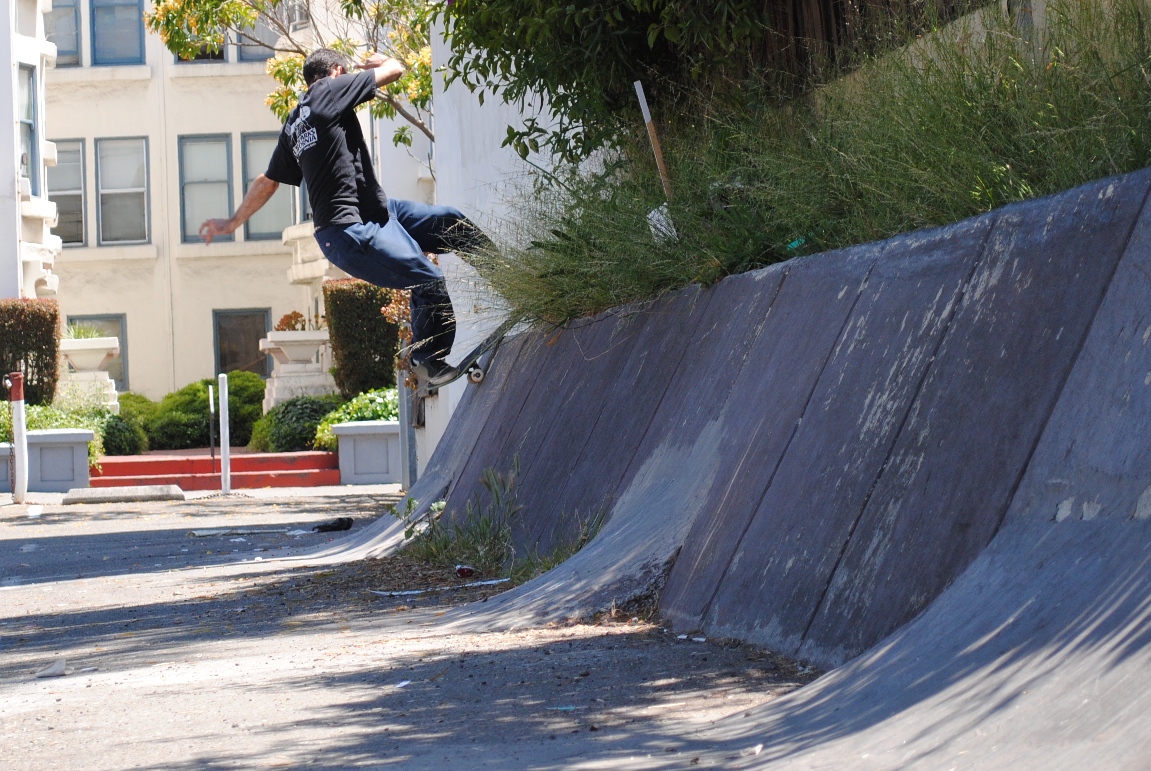 and he was killing it.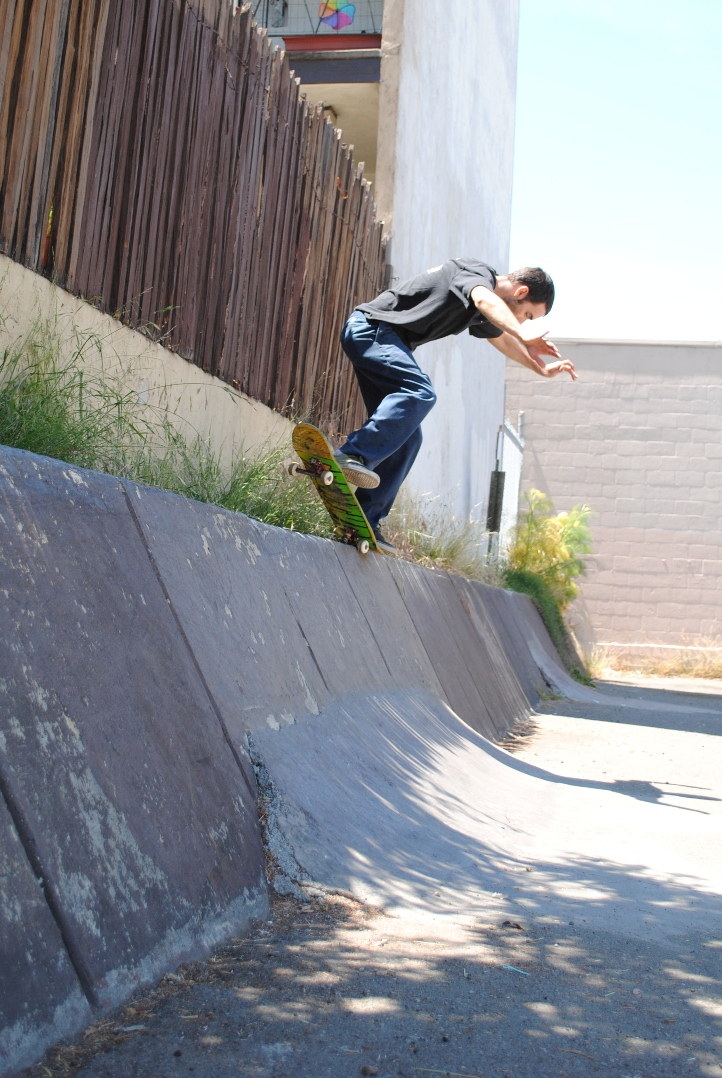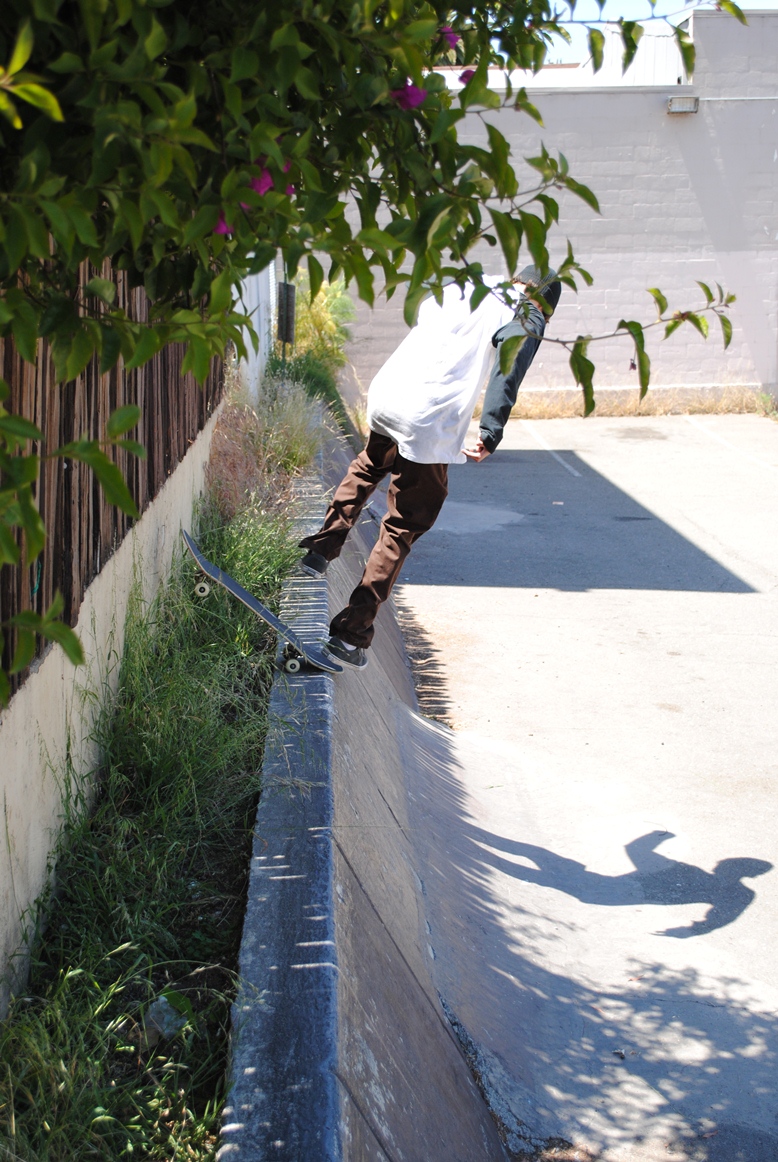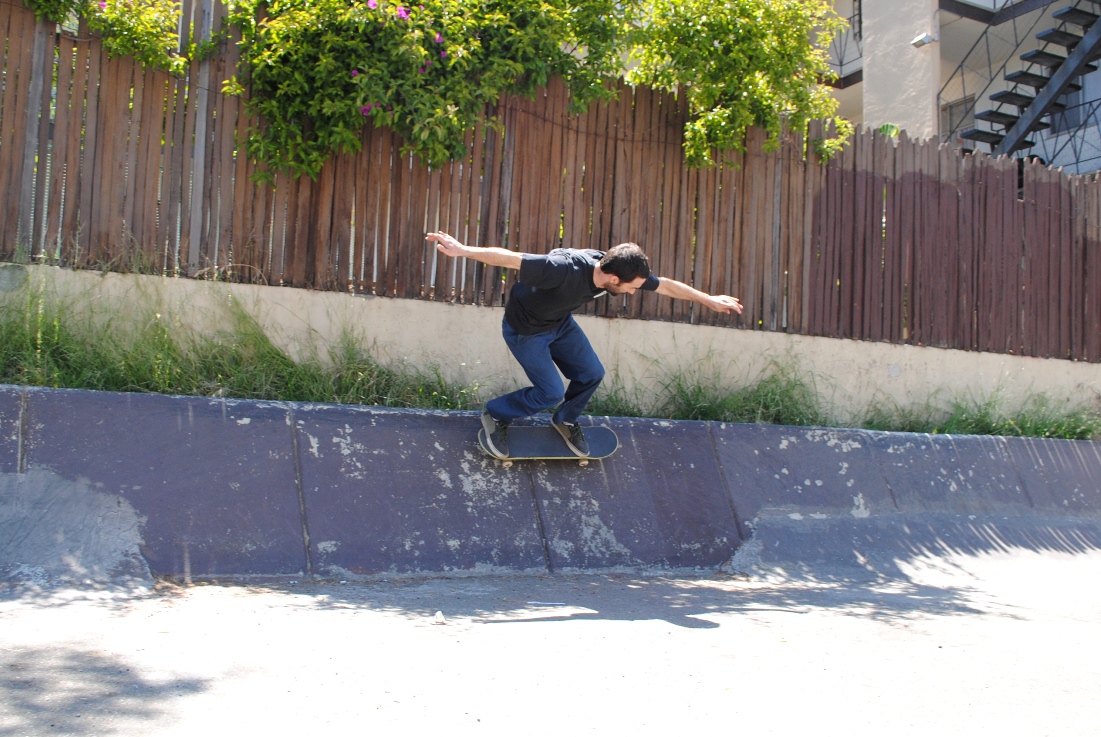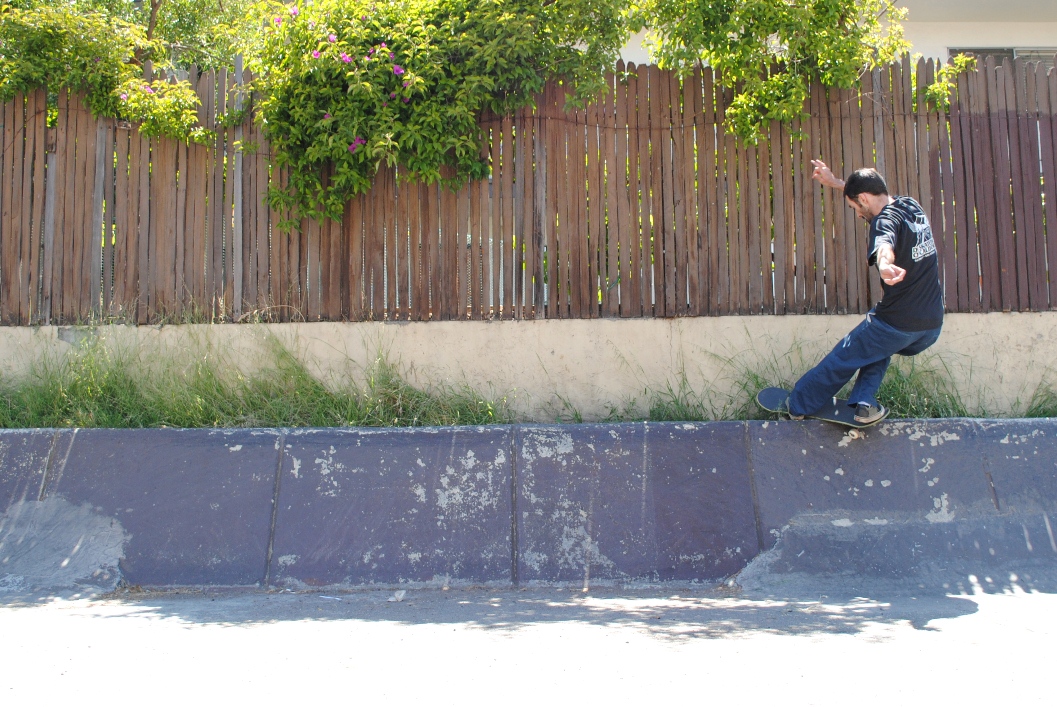 After this spot, we motored back to Gordon's place. The dudes hung out and watched skate vids while I got ready for the party. I left them to head about 20 minutes east to Molly's engagement party.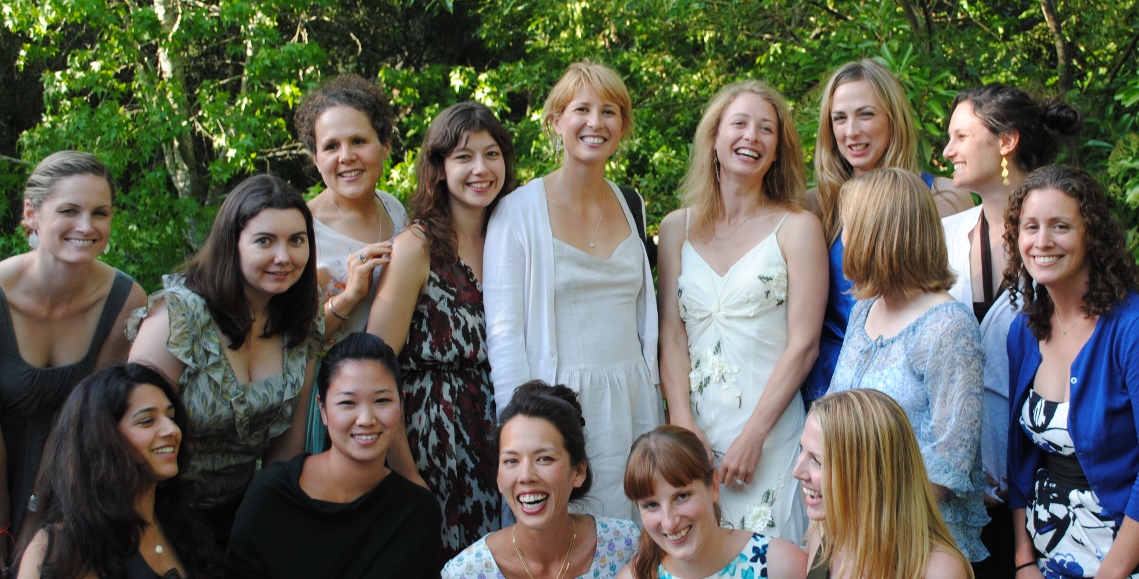 the ladies at the party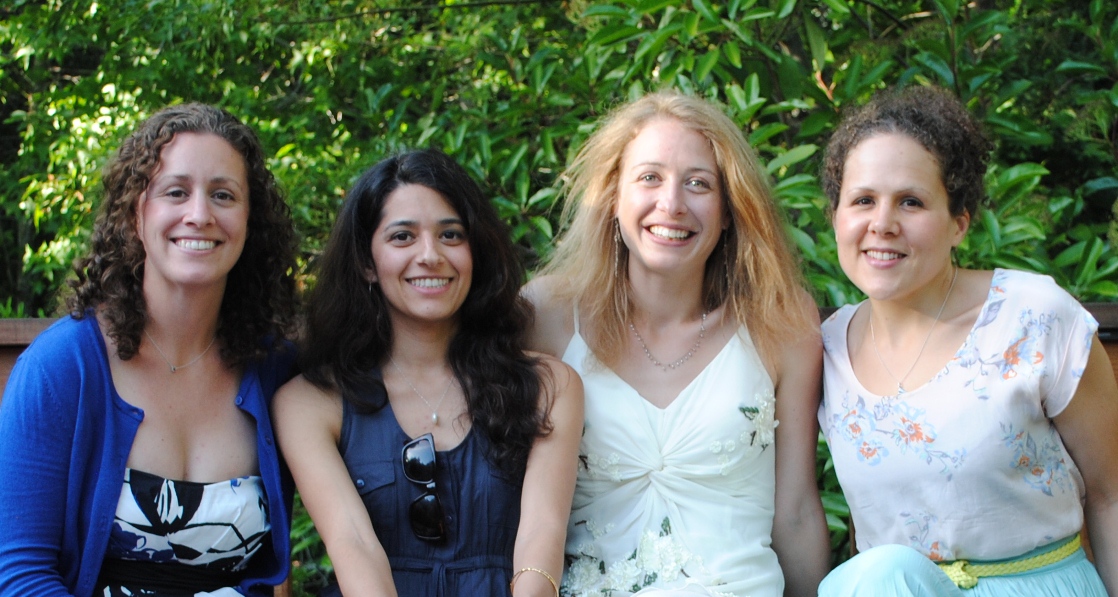 McGill crew: me, Shayda, Molly and Alia
It was SO awesome to see everyone. I'm usually lucky enough to get to see Molly and Shayda whenever I make it out to SF, but I hadn't seen Alia since 2004! It's been so long I almost can't believe it. After the party wound down and I was filled with delicious finger food and desserts, I made my way back to Oakland. Sandy had a friend over and we all drank and watched a sweet and ridiculous Natural Koncepts video (I realized I had never seen one before – damn have I been missing out).  Eventually it was time to crash. One more day down.
On Sunday, Gordon picked back where he left off in terms of tour-guiding us around. Our first stop was on Treasure Island, which is the only exit along the Bay Bridge. Gordon showed us three spots, which are most likely the only three spots on the whole island. This was one of them: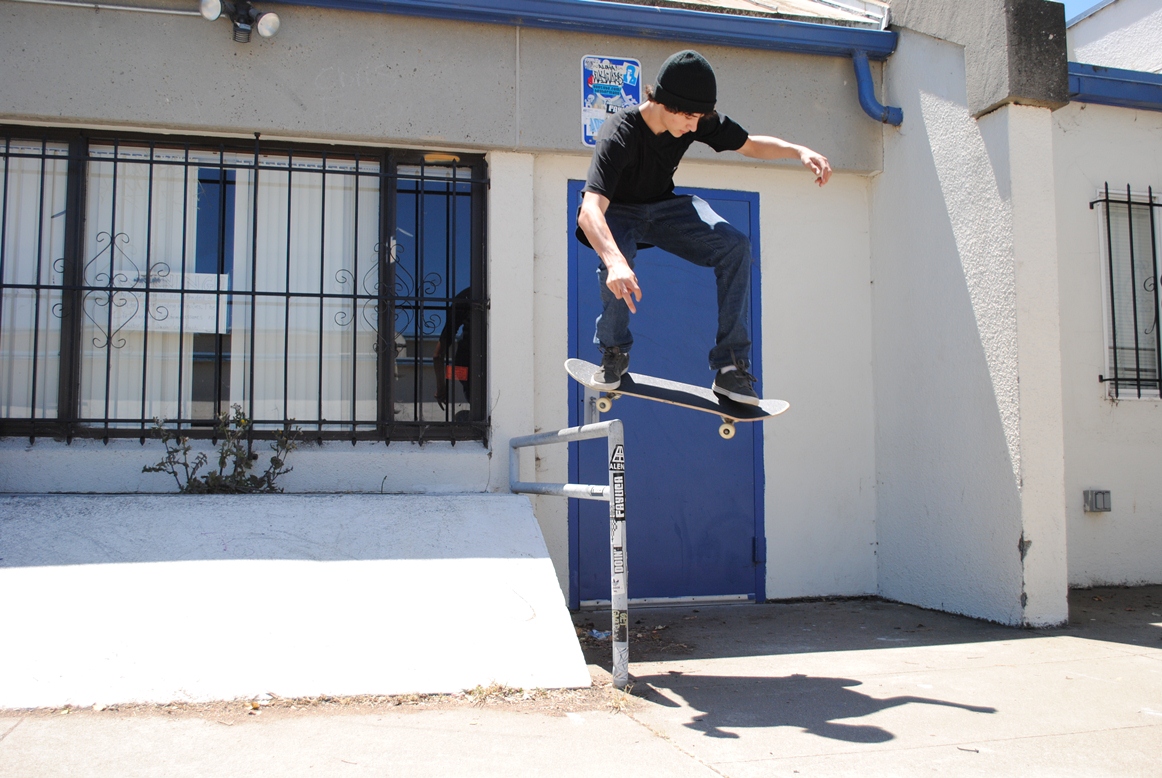 I don't know if you can see, but in the photo above on the pole there's an Alena sticker. That was a skate shop in Montreal waaay back when I lived there, although at that time I had heard it was gonna close and just be an online shop. Not sure what happened in the end, but it was cool to see the sticker.
After checking out spots on Treasure Island, we moved on through the city of San Francisco to a sandwich/salad/cafe type place in Sunset for some food. Out next stop was this spot: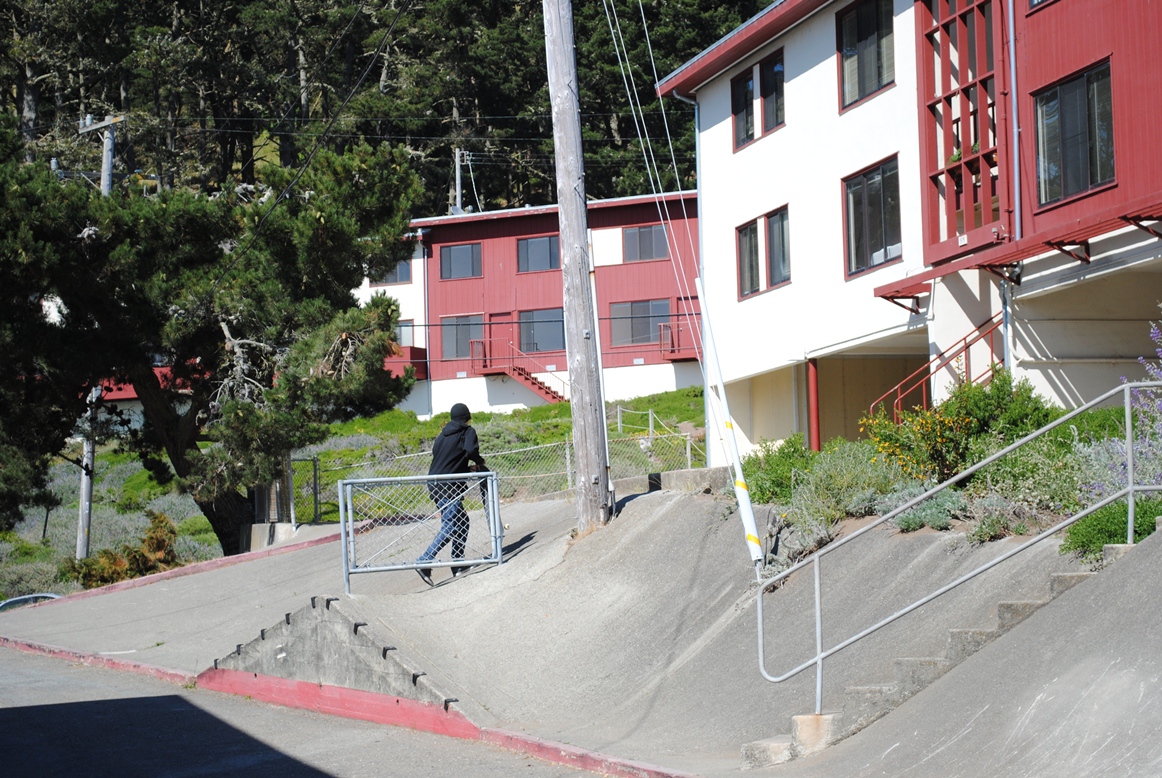 Even with the new fence in the middle, Jack still found a way to shred…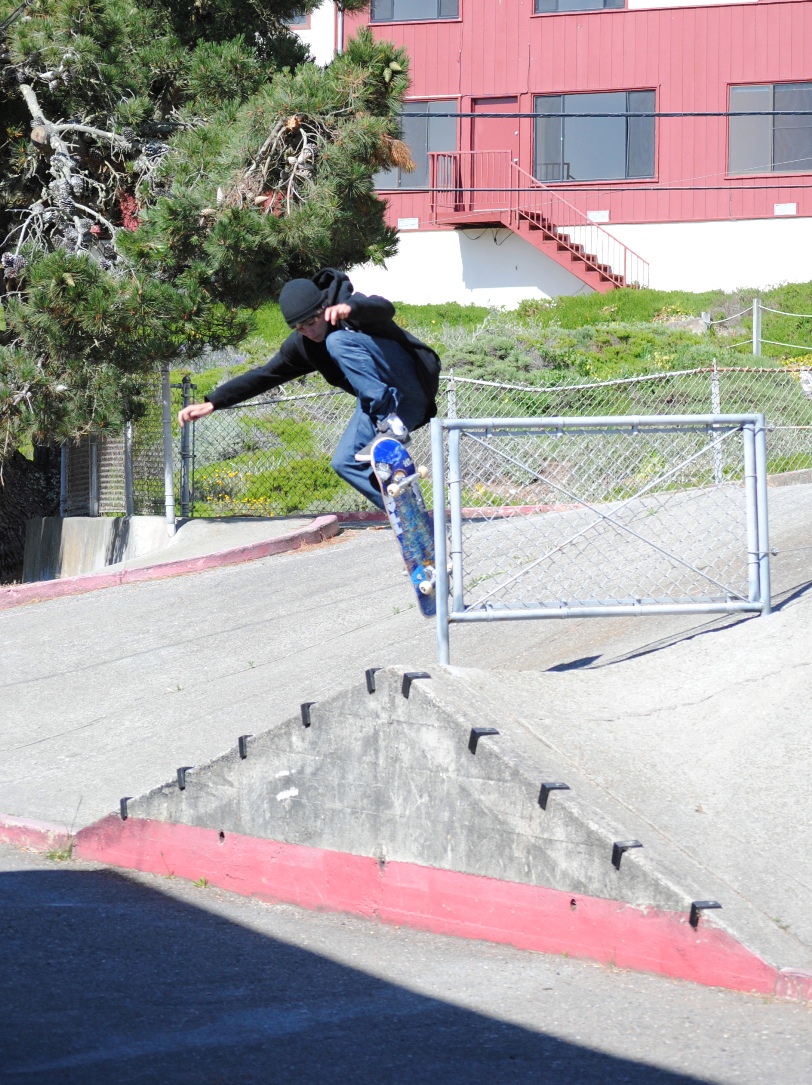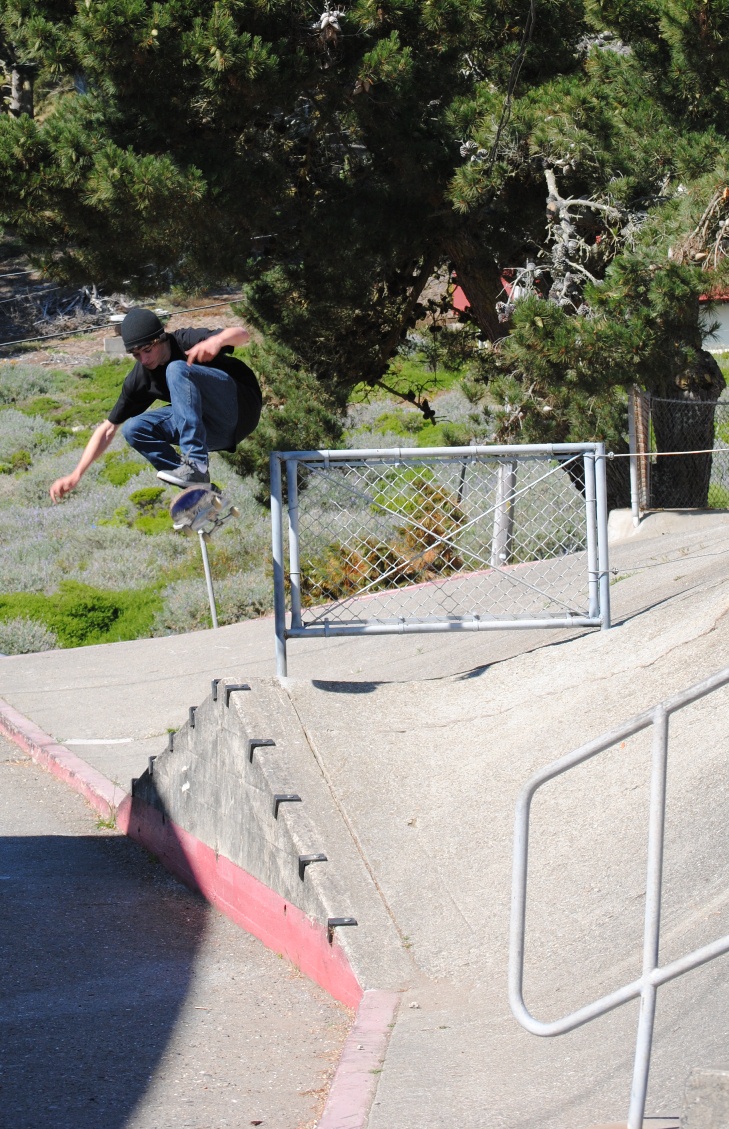 So rad. The photo cred goes to Gordon, because I was busy learning how to film.
And then off to Baker's Beach!
While I was busy admiring the view, Jack got to work…
At this point Jack started getting me prepped to film so Gordon took over with my camera…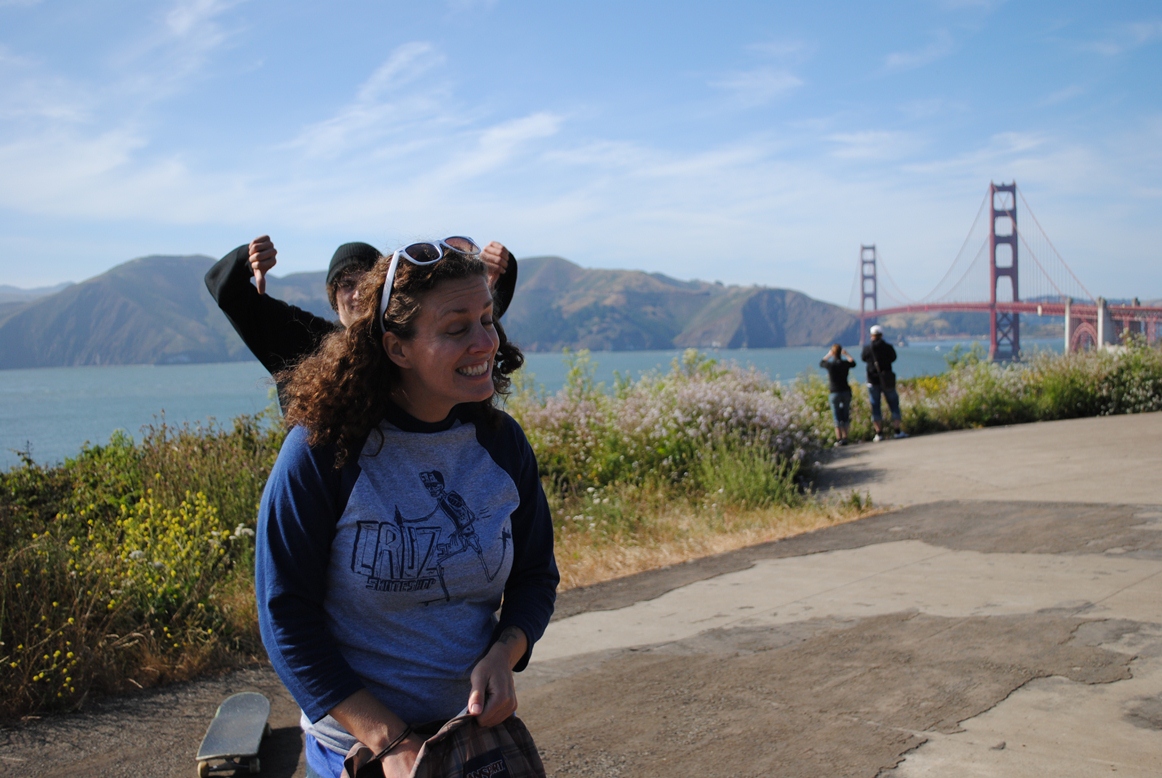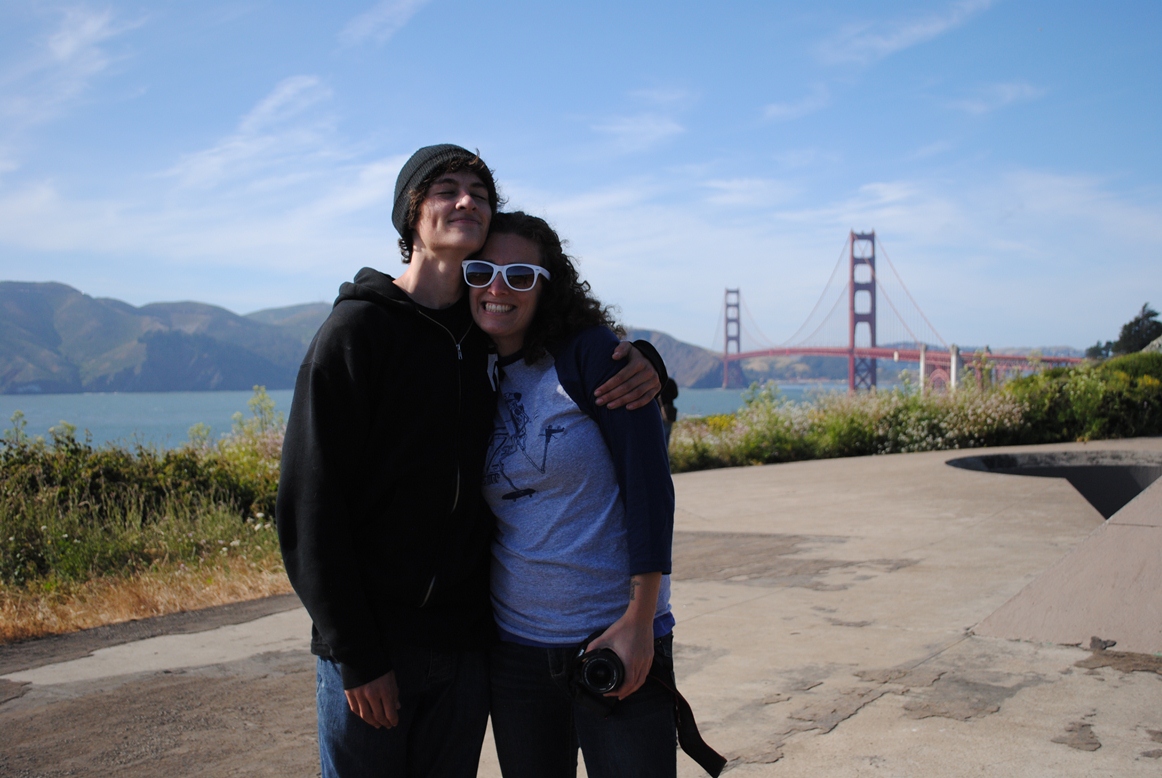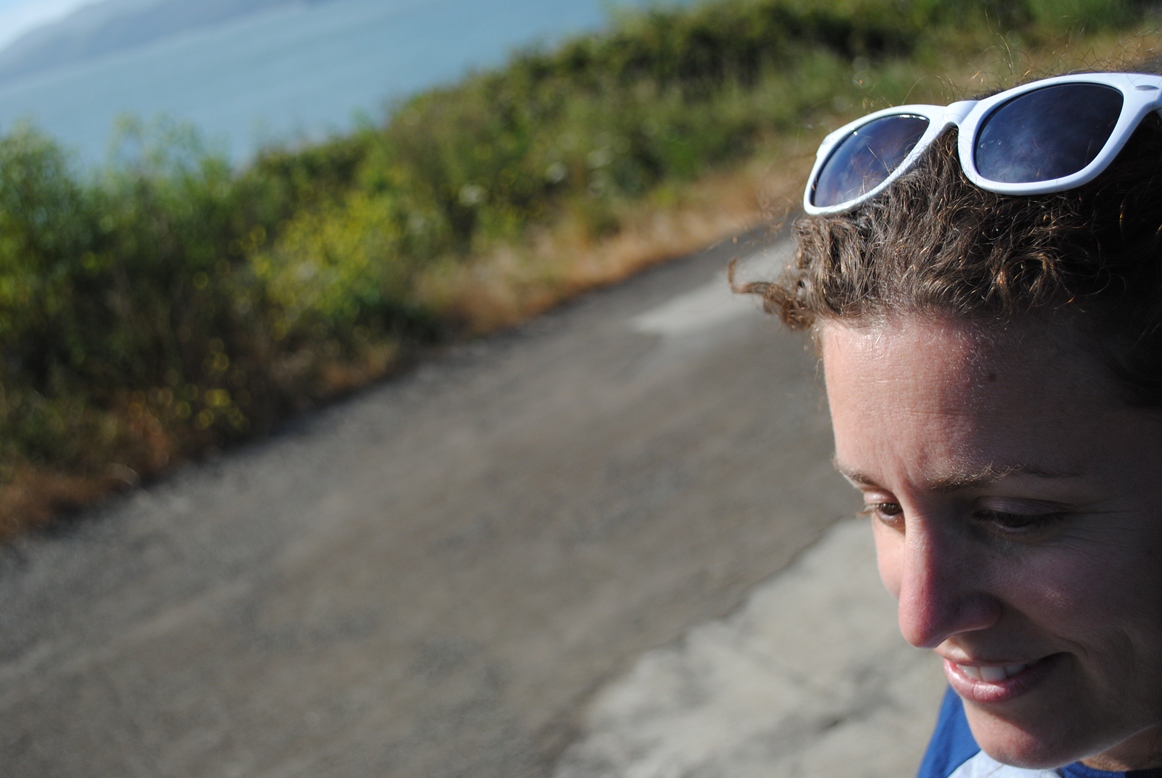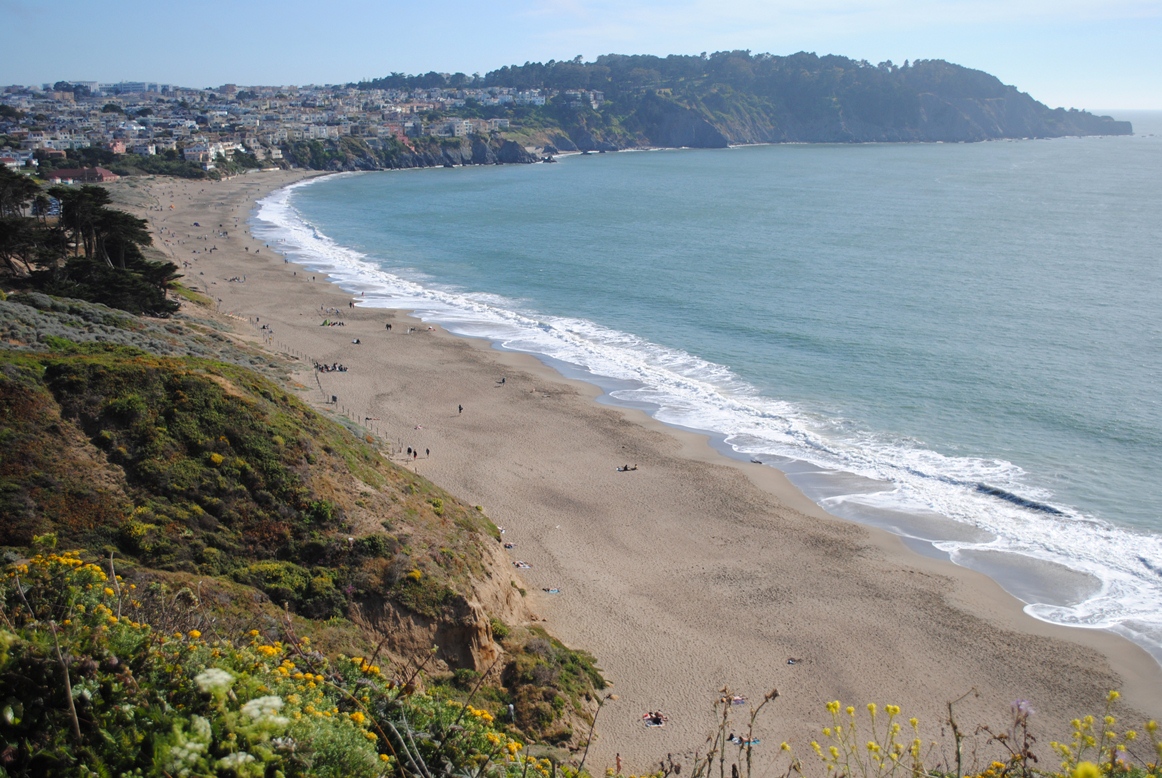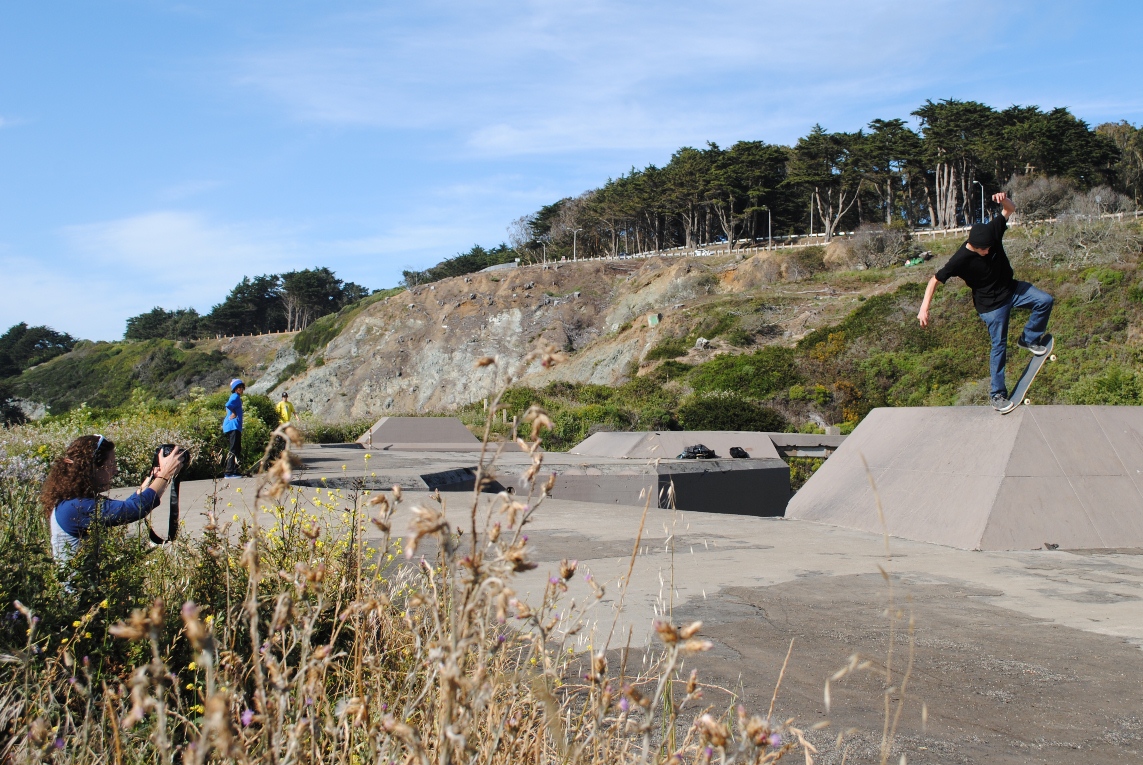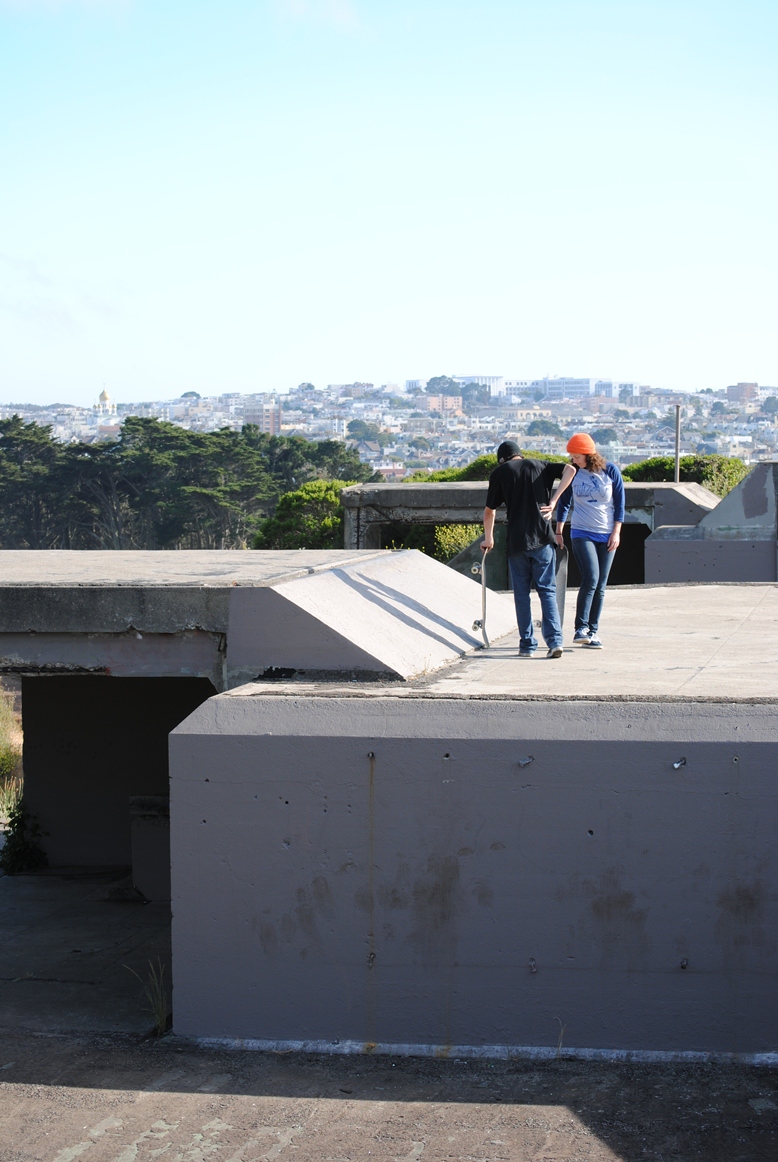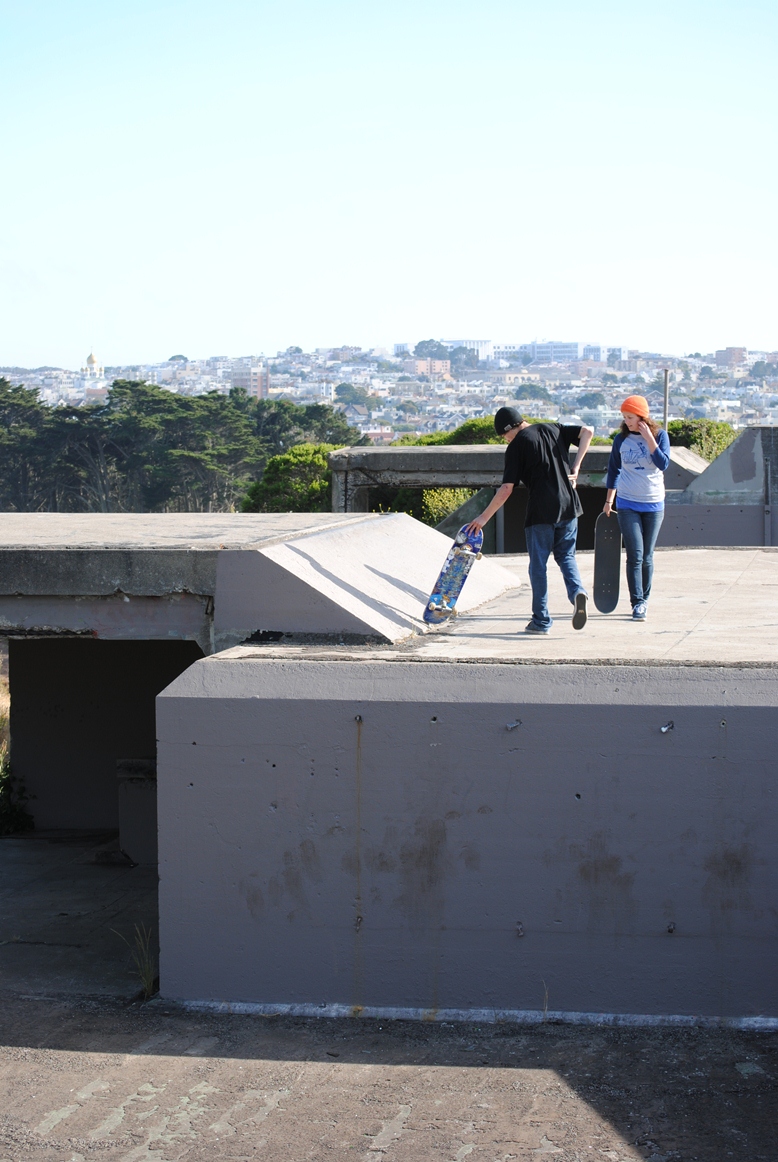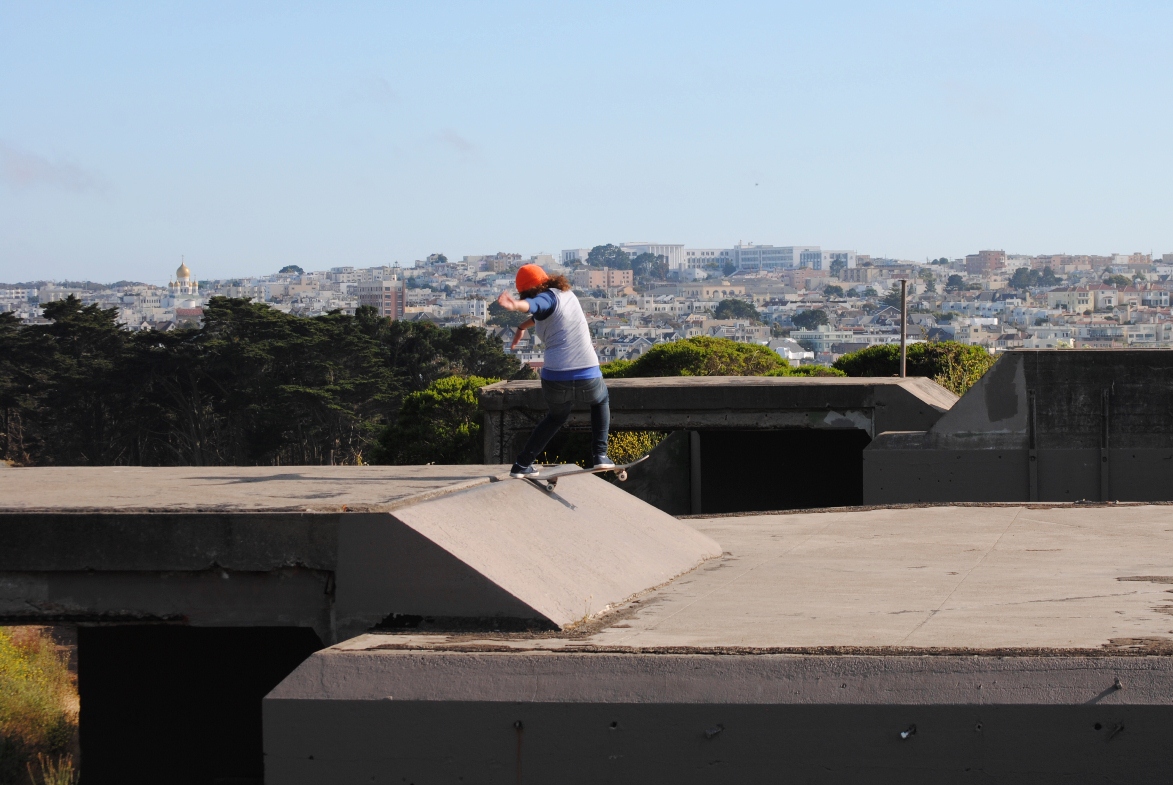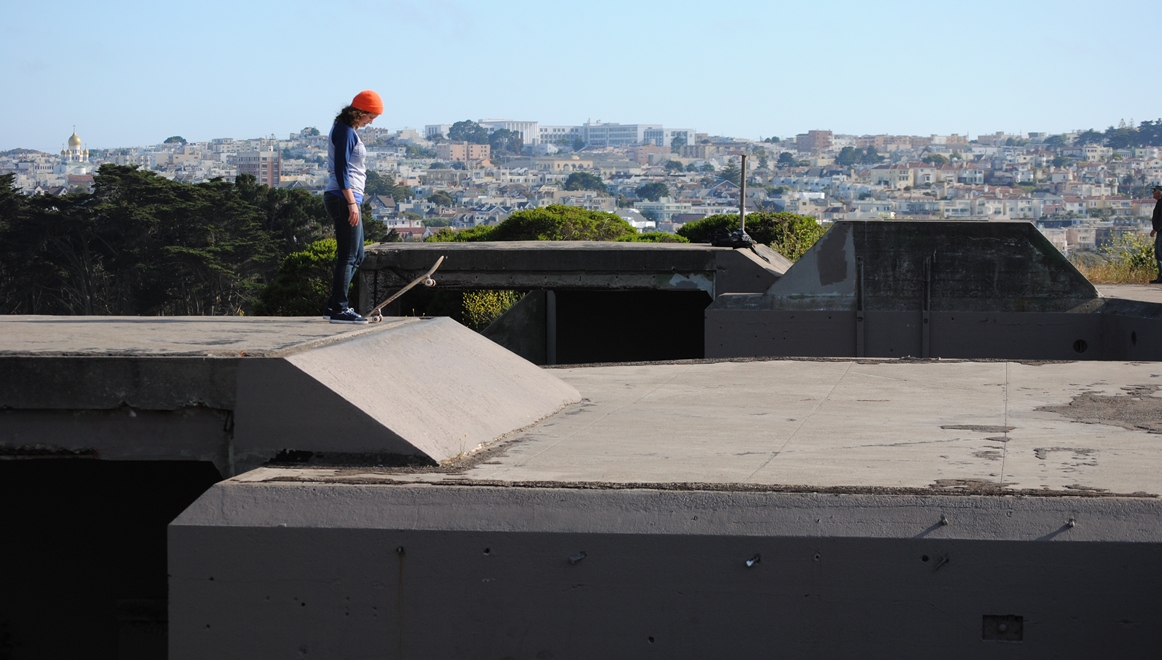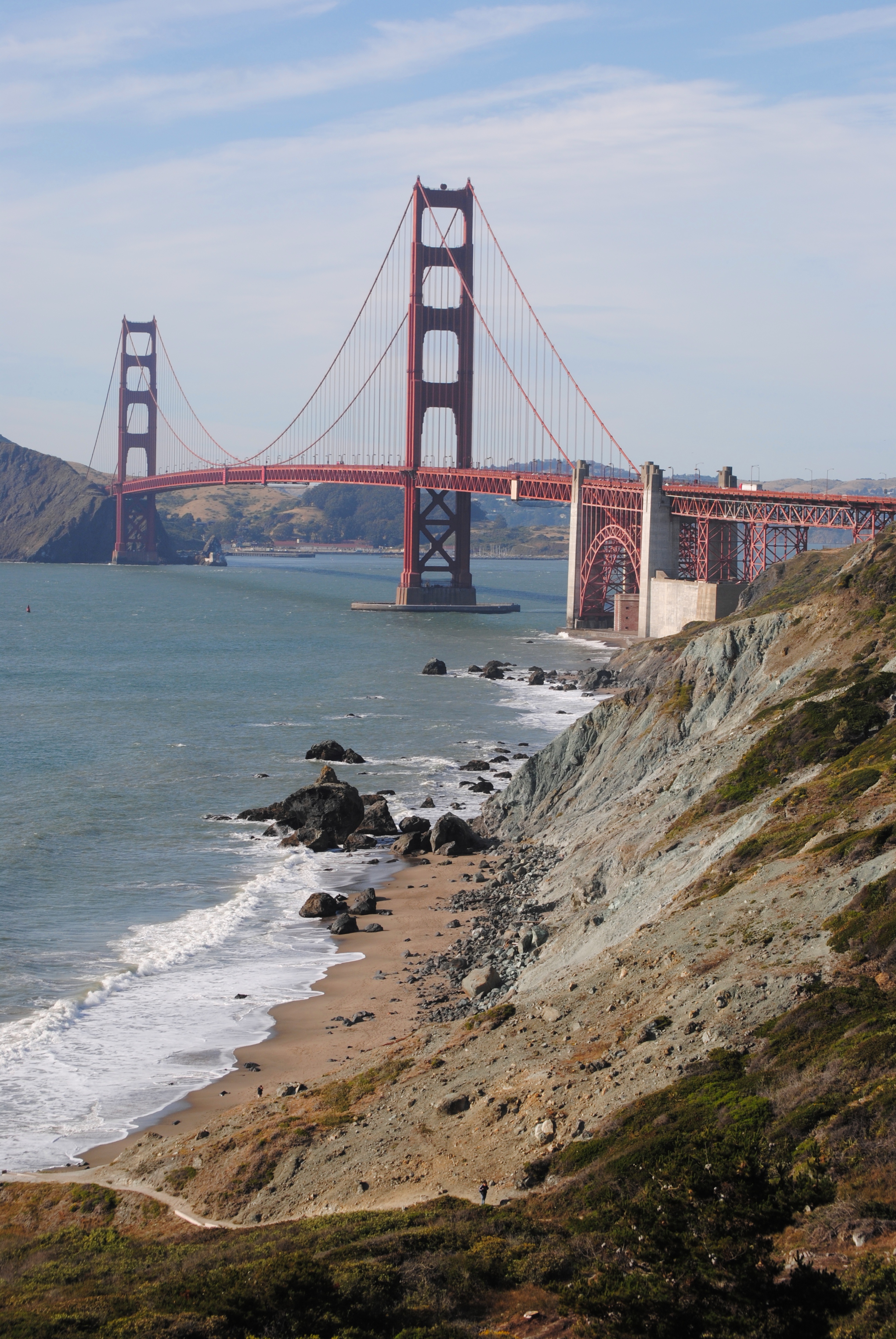 Geez Gordon – thanks for the amazing Golden Gate Bridge shot. So beautiful.
From there we moved on yet another famous spot that I have never seen in person… Wallenberg. When we showed up we had no intention of actually skating here, but there was a little hucking that went down…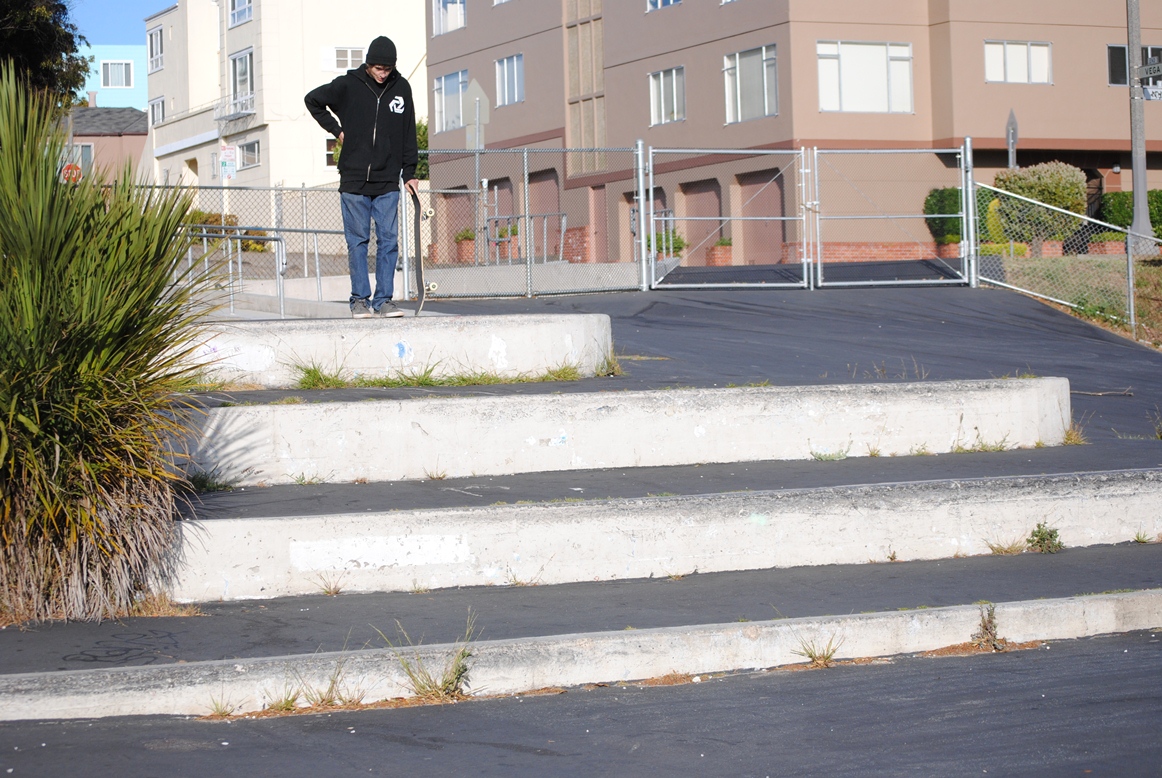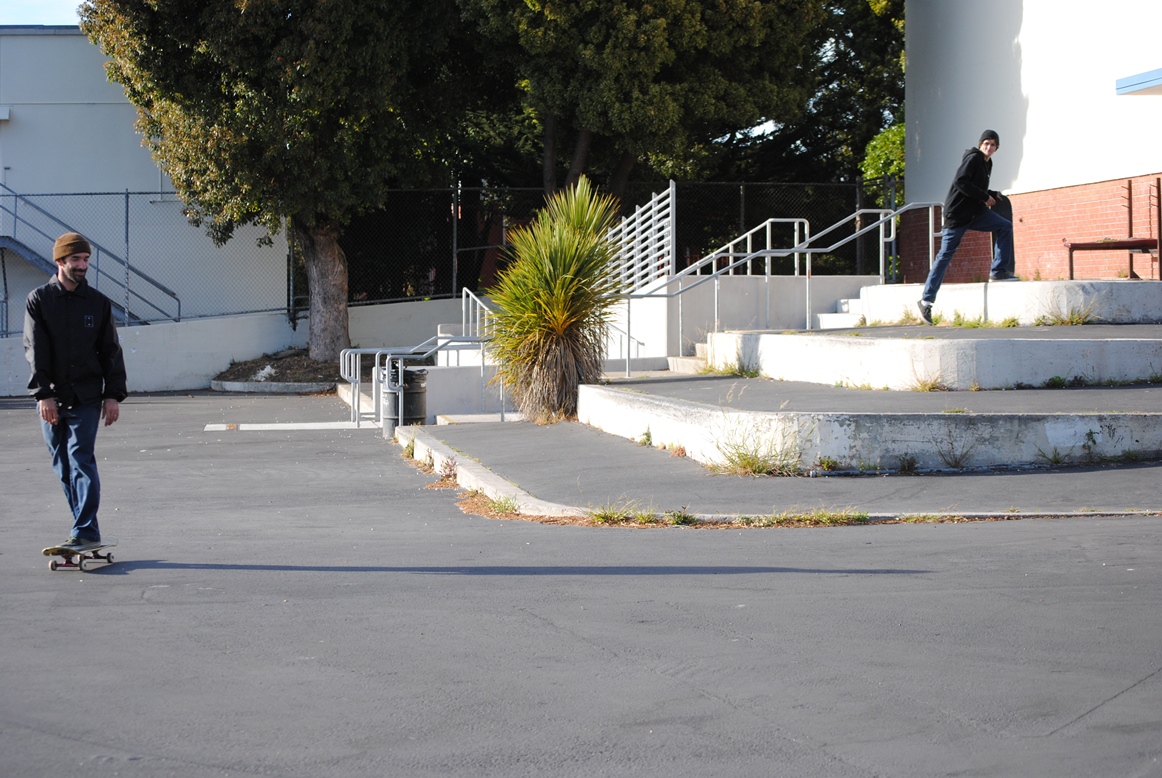 Jack surprised both Gordon and I when he kept rolling up faster and faster and faster until he finally just started jumping. Each time he kicked out, but by the last attempt he definitely cleared it. So crazy. Sorry for the crappiness of the pictures…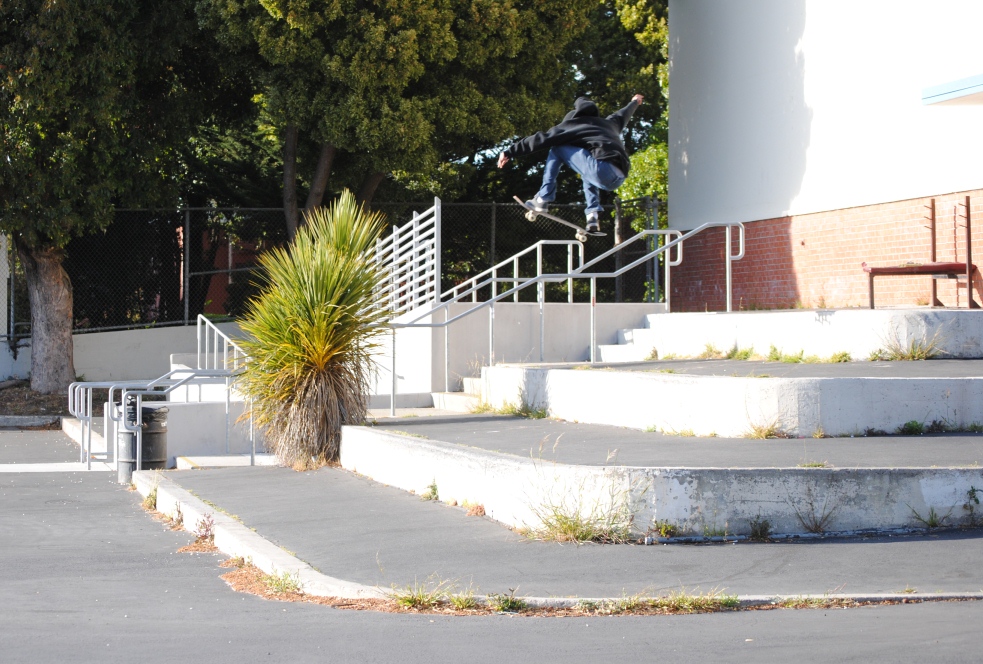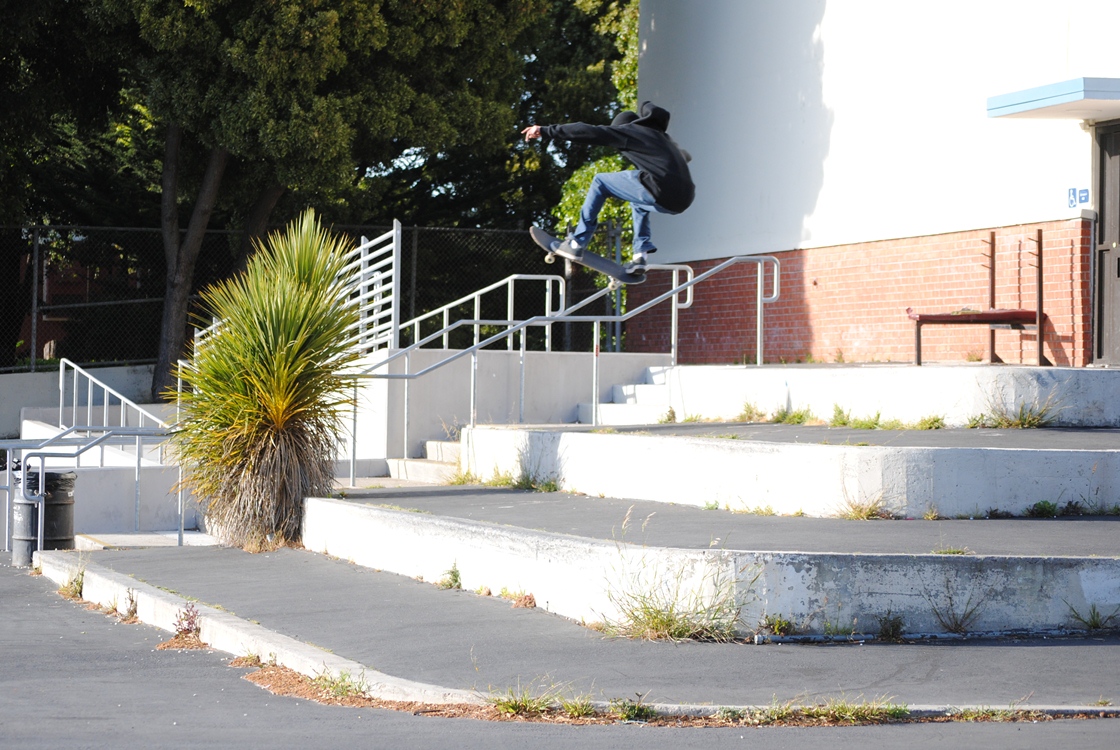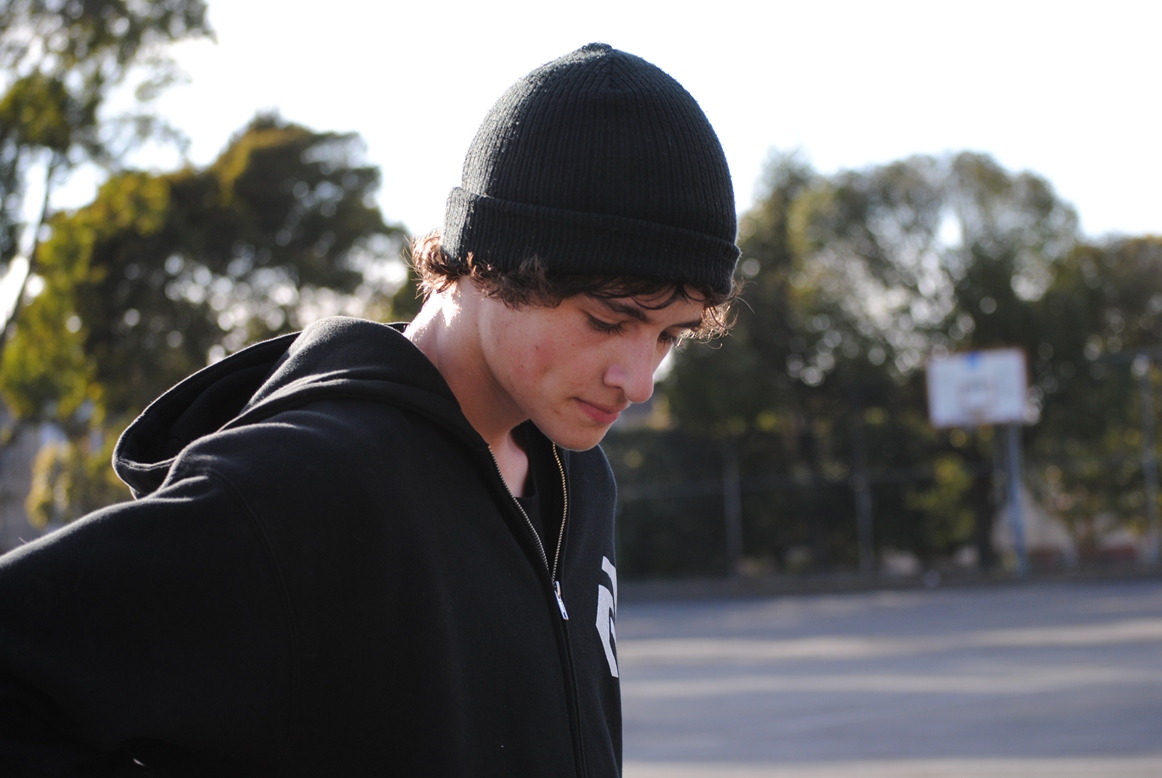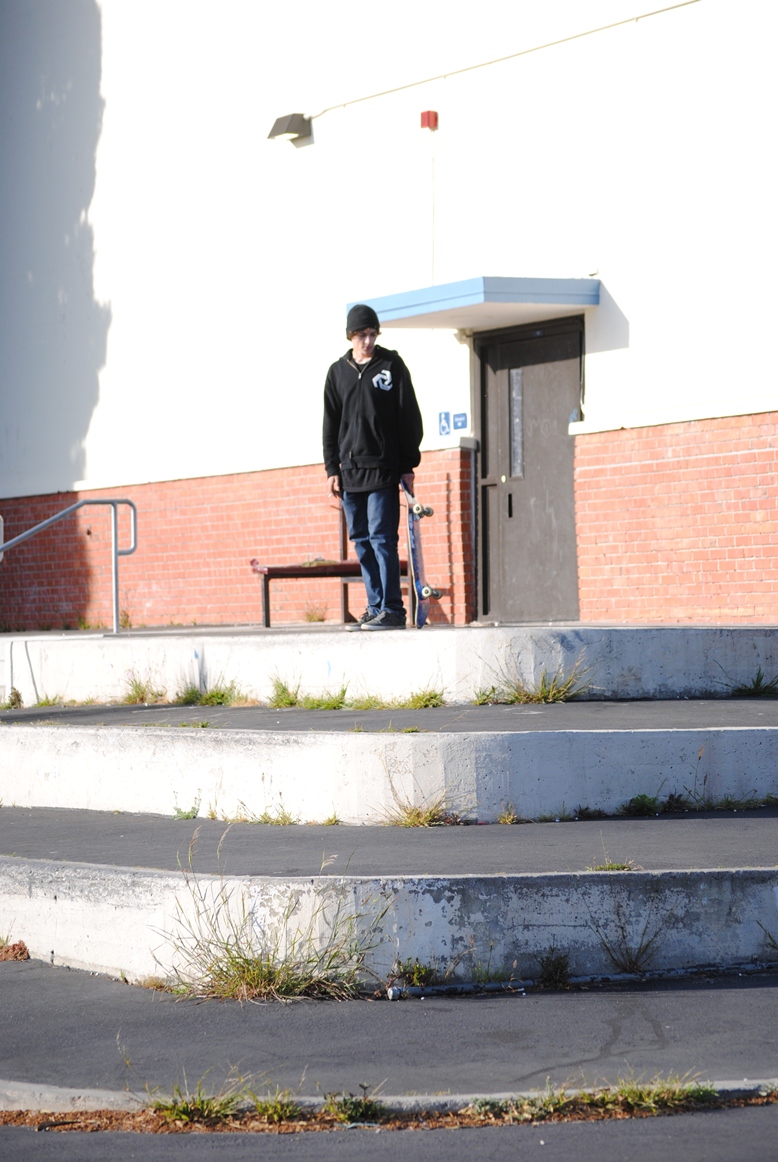 Jack ended up deciding that if he wanted to be able to skate at all for the rest of the trip it was time to call it quits. Then I ollied the bottom part (2-stair I suppose) with Gordon and then decided to try to kickflip it. After about an hour or so and approximately 100 attempts and a few lands, partial roll-aways and many many slams, it was time to call it quits. At first I admit I was bummed, but then we drove over the Golden Gate Bridge on the way home and ate at a Mac-n-Cheese restaurant for dinner. That and a bunch of beers, as well as coming home to these partying ladies…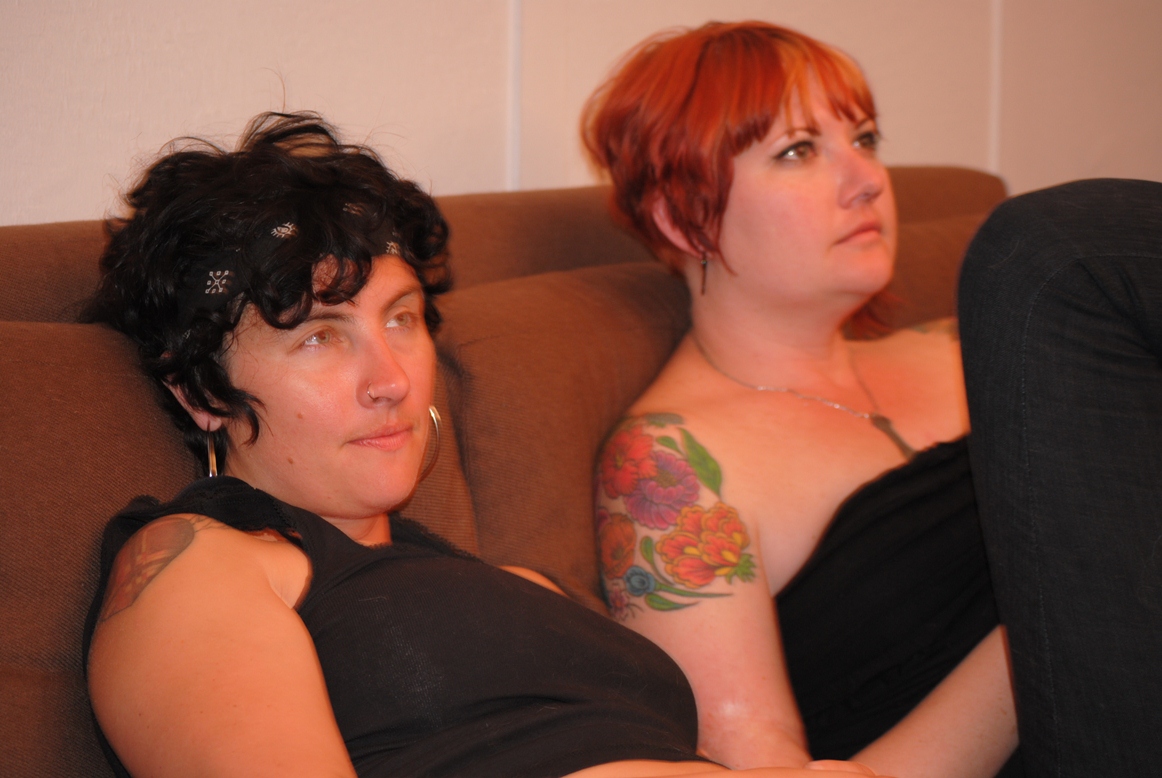 …made up for it. Fun times. We watched more random skate videos, drank more beers and crashed. Woo. Thanks so much Gordon, you are a fabulous skate tour guide!